Newsletter "Pints of View"
CAMRA have placed an embargo on printed magazines for the time being. We are therefore publishing any new material for Pints of View on our branch website. See Pints of View Online Articles.
---
LAST PRINTED EDITION: Pints of View Spring 2020.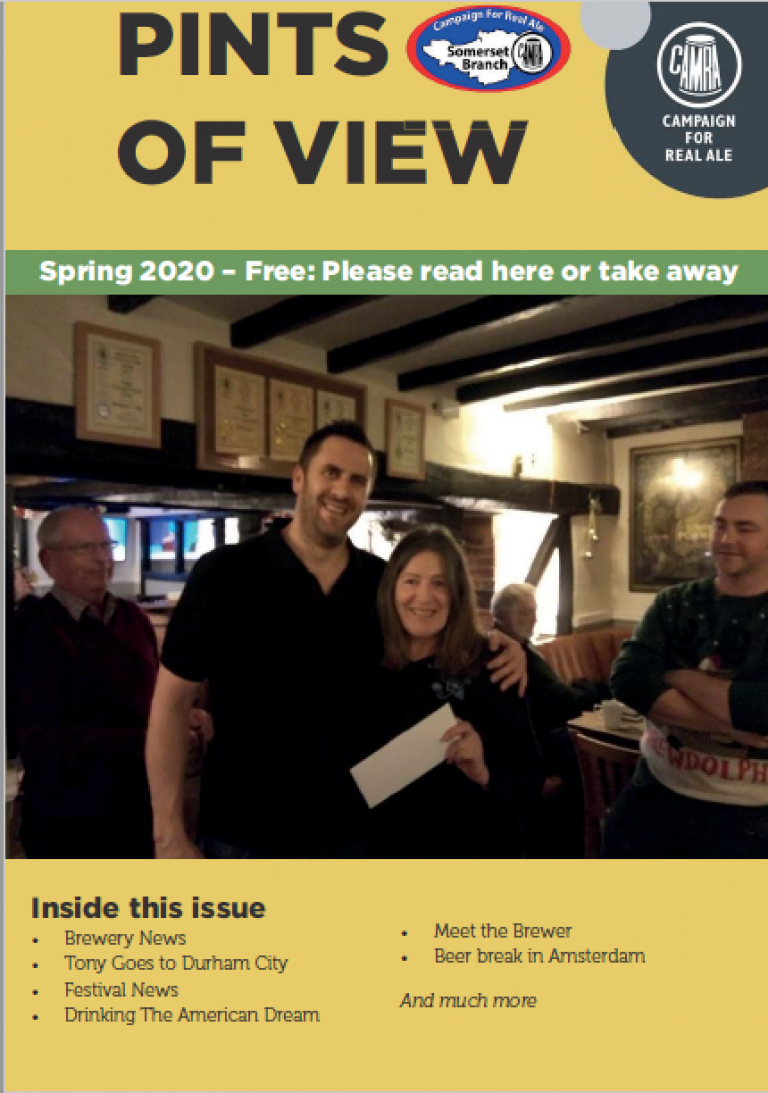 Since production of the Yeovil Ales in the Brewery in Focus article, we have learned that Cotleigh and Exmoor breweries have achieved the SALSA (Safe and Local Supplier Approval) accreditation by the Institute of Food, Science and Technology. Therefore in our branch area we have 3 breweries awarded this accreditation as an approved supplier. If any other brewery in our branch achieves this, please let us know so it can be included in the brewery news section.
The branch of Somerset CAMRA publishes a newsletter PINTS OF VIEW on a roughly quarterly basis. Click on the link above to download the current issue image of the magazine in PDF format. Below are links to past issues of PINTS OF VIEW. The editor is Jody Grabham who would be more than happy to receive articles for inclusion in the next issue of Pints of View. You can send articles by e-mail to ku.gro.armac.tesremos@weivfostnip in most formats, although photographs and images should be in JPEG format if possible. Articles or letters commenting on the newsletter or anything to do with the drinking scene are always needed so why not indulge.
Advertising
Why not advertise your pub or business in Pints of View? Quarter Page - £85.00, Half Page - £145.00, Full Page - £260.00, Inside Front/Back - £280.00 & Back Cover - £300.00.
Please contact Neil Richards MBE at Matelot Marketing to discuss advertising. Tel: 01536 358670 / 07710 281381 or Email: moc.tenretnitb@sdrahciR.n.
We need volunteers to deliver "Pints of View", our Branch Magazine, to the following Pubs:
* Nether Stowey: The Ancient Mariner and The Rose & Crown
* Puriton: The 37 Club
* Shurton:The Shurton Inn
* The Knowle Inn, Bath Road, Knowle, Bawdrip, Somerset, TA7 8PN.
If you are interested please contact Phil Emond using ku.gro.armac.tesremos@tropsnart.cilbup.
Download our Somerset Branch CAMRA Newsletters
Click on the required link below to download a PDF copy of the Newsletter.

Pints of View Winter 2019
Pints of View Autumn 2019
Pints of View Summer 2019
Pints of View Spring 2019

Pints of View Autumn 2017
Pints of View Summer 2017
Pints of View Spring 2017

Pints of View Winter 2016
Pints of View Autumn 2016

Spring 2014 Pints of View
Summer 2014 Pints of View
Autumn 2014 Pints of View
Winter 2014 Pints of View

Copies can also be downloaded from http://www.matelotmarketing.co.uk/somerset.html.