Somerset Breweries
For all information on breweries in the County of Somerset please refer to the current edition of CAMRA'S Good Beer Guide.
BREWERY NEWS
End of the Road for Yeovil Ales?
Hi, you have landed on YeovilAles.com This website is dormant and not trading as of 21st June 2022. I wish you happiness and hope to see you very soon, in the interim please do not phone the Brewery, instead email moc.selalivoey@ofni.
Message to our customers:
After 17 years the time has come to close the brewery and start a new chapter.
We would like to sincerely thank you for your custom, especially during the pandemic - we hope that in some small way our awesome beers helped you get through those difficult times.
Every best wish for the future.
Rob and all the team.
Nuttycombe Brewery is launched for June 2022
The Big News Is Here................................
Following the permanent closure of Cotliegh Brewery the assets were sold as a complete lot to Ross Nuttycombe of the Star Inn at Watchet.
The main brewery building was sold and subsequently leased to Ross, allowing him and his staff to completely refurbish the site and begin brewing a completely new range of beers.
Our first brew started last Saturday and is now racked and will be ready for distribution on Tuesday 31st May 2022. It's called Sovereign and it is of course ready to celebtrate the Queen's Jubilee.
We have 3 more brews in production as of today and another 7 planned to start from Monday 6th June 2022.
We hope that you will join our facebook page Nuttycombe Brewery and follow all that we are doing.
You will see that, as a nod to the past and to keep some history of Cotleigh going, we have used the Hawkshead design as our main logo. We felt very strongly that we should remeber the past 40 plus years of brewing tradition that our predecessor had gained.
Please also check out our website at https://nuttycombebrewery.co.uk and for the trade you can register to purchase our range of products through our trade portal.
We also hope you like our range of merchandise, which will continually be added to. We also will be opening a brewery shop and tap room on the site in Wiveliscombe over the next couple of months.
Thanks to you all for your patience in waiting for this update.
Please feel to call us on 01823 802400 for orders or more information.
https://nuttycombebrewery.co.uk/.
---
Quantock and Cheddar triumph in South West SIBA awards
Quantock Brewery and Cheddar Ales have taken the top two awards in the SIBA South West Independent Beer Awards, in Newton Abbot.
We're Going to Need a Bigger Boat, a 6.3% ABV New England IPA, took the top prize for Quantock. Champion cask beer of the competition was Piney Sleight, a 4% ABV session IPA from Cheddar.
https://beertoday.co.uk/2022/04/22/south-west-siba-awards-2022.
SIBA, the Society of Independent Brewers, was established in 1980 to represent the interests of the growing number of independent breweries in Britain.
SIBA was instrumental in campaigning for Progressive Beer Duty (PBD), which came into place in 2002. This beer duty system allows smaller breweries to pay less tax on their products and has led to an explosion of new breweries in the last decade.
PBD still plays a major role in the Britain's vibrant beer market. SIBA's membership survey recently highlighted how important PBD is to their business with 70% stressing that PBD in at least its current format is 'vital' to their business, with an additional 24% highlighting this as 'very important' or 'important'.
SIBA currently represents more than 825 independent craft breweries and our vision is 'to deliver the future of British beer and become the voice of British brewing.
---
Quantock Brewery
Quantock Brewery has been sold to new owners based in Aberdeenshire. From 1st February 2022 the new company name is Quantock Ales Ltd. Somerset Ales Ltd, the previous company, went into administration in February 2022.
Here is Quantock Brewery's press release:
There's some big news on what's been happening here at Quantock Brewery.
First, we would like to thank you all for your continued support over the years – we couldn't have done it without you. Despite the impact of the pandemic, our sales have increased by over 100% over that period.
This meant that during 2021 our brewing plant reached full capacity. It was always recognised that further growth and profitability depended on significant new investment, but regrettably, this investment was not forthcoming from existing investors. To protect the brewery business and source the investment required, we put it up for sale.
After significant expressions of interest, we were thrilled to confirm that Quantock Brewery has acquired new partners, who have as much enthusiasm for the brewery as we have.
Our partners have invested in new brewing equipment which will increase our production capacity by four. This will enable us to service increasing customer demand and will elevate Quantock Brewery to a craft beer supplier of significance within the industry.
The success of QB has been based on several factors: constant innovation, consistency in our brewing process, a committed, passionate team, and a loyal customer base. With the new partners, we'll be going from strength to strength.
Directors of Quantock Ales Ltd, issued a statement confirming their commitment to keeping the vibrant Quantock brand alive and growing.
Naidene and Katalin Urquhart said: "All the team at Quantock Brewery are very committed, which we feel is a vital component of any successful business. It's one of the elements that attracted us to be part of its next phase of growth.
"New equipment will be installed by the end of March, increasing capacity by a factor of four to meet the obvious demand and help secure the brewery's future."
The brewery's shop and taproom is operating as always, and its extensive range of beers are available from the usual outlets and online.
There are many more exciting things to come as we enter this next phase of Quantock Brewery. Look out for updates on this website: https://www.quantockbrewery.co.uk.
Also see https://www.thegrocer.co.uk/restructures-and-receiverships/quantock-brewery-rescued-from-administration/664962.article.
---
Beer Drive Thru - Pitchfork Brewery and 3D Ales
Our epic journey may have started in 2017 – but ours is a business that has been brewed to perfection over decades.
The 'brewtiful' tale can be traced back to the days of Weston-Super-Mare's famed RCH Brewery, where quality was key and beers were lovingly brewed to be the best.
Sadly RCH hit some tough times and a new chapter started with the Beer Drive-Thru taking on their heritage, beers and principles in brewing exceedingly good beer.
Fast forward to today and Covid-19 has done its worst to burst the bubble of many a brewery business – shutting down pubs and cutting off our main route to market.
But ever the 'hoptimists' we weren't going to let a little thing like that get in our way. You guys need your beer fix and you better beer-lieve it that nothing's going to stop us getting it for you!
Left with almost 1,000 casks of ale when lockdown was launched back in March 2020, we made it our mission to bring them to you. And we've been doing it ever since!
Fresh beer is the best beer. It's as simple as that. So the key was finding a way to provide your favourite, freshly-tapped and dispatched craft ales to pass the Covid pandemic straight to your door – wherever you are in the UK.
And with the introduction of Beer Drive-thru we've done just that. Our bag-in-a-box beer is the closest to a freshly-tapped pub pint you'll get – and you get to enjoy it from the comfort of your own home.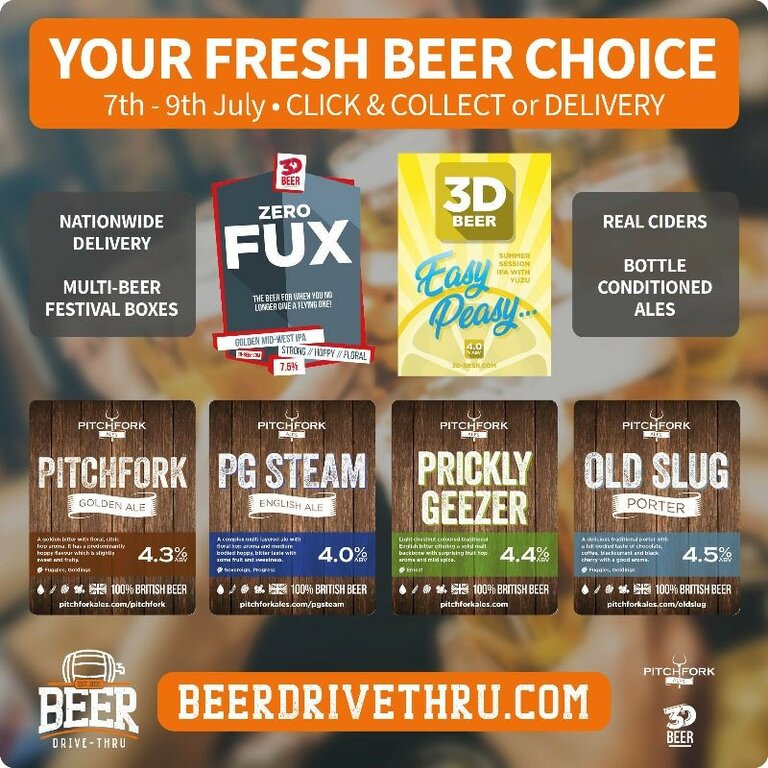 We always offer at least SIX freshly brewed beers each week and we like to keep you guessing rotating beers for flavour and taste depending on our brewing schedules.
In addition to this we offer a range of Bottled Beers, Ciders, the occasional Guest Ale and now Craft Beer in Cans giving you more choice, more flavour and more value than ever before.
---
Odcombe Ales at the Masons Arms
Since year 2000 Odcombe Ales were located at the Masons Arms, Odcombe, Somerset, and brewed beer for sale only at that pub. The pub was purchased by Hall and Woodhouse (Badger) in late 2020, during restricted trading conditions for the hospitality trade. The brew plant formed part of the sale. A new tenant took over the pub (which was closed due to Lockdown 3) in February 2021. It is believed that the brew kit was removed to the Hall and Woodhouse premises in Blandford Forum, Dorset. These details were given by the new landlady, Rose, after pubs with an outside area were able to reopen from Monday 12th April, for which we give thanks and best wishes for the future in her new venture.
Since then Joe Clarke, the Hall & Woodhouse BLO, has kindly further updated us:
As already established the Masons Arms is now part of the Hall and Woodhouse estate and I can confirm the brewing equipment is now at the Hall and Woodhouse brewery. The long-term plan is to use it for development work and for brewing beers for their festival. Recently, over the lockdown they launched a bottle conditioned milk stout called Milk Made (I have yet to try it myself yet), they plan on releasing a kriek in June to celebrate Founders Day and they have started work on a NEIPA.
I'm not sure if you have managed to get to any of their beer festivals, held annually over the summer, but it's quite a big deal for Hall and Woodhouse. It's a big family social occasion and as well as raising money for charity, the staff get involved in running it on the day such as helping out selling beer tickets, working a stint on the bar, showing people around the brewery etc. The beer selection includes on a lot of one-off brews made solely for the festival hence the purpose for an additional brewery. It's not confirmed if it will go ahead this year.
WhatPub beer list has been updated: https://whatpub.com/pubs/TAU/483/masons-arms-odcombe.
---
Quantock Brewery is Counting Down to the World Beer Awards Final 2021
We were over the moon when we found out this week our NEIPA Unknown Path has been judged the country winner in its category. It has been picked to represent the UK at the World Beer Awards final later in the year.
---
Exmoor Ales Open Brewery Shop
OUR NEW BREWERY SHOP is up and running, ready to serve. Bottled beers (Exmoor Gold, Stag, Beast, and Exmoor Ale), draught mini casks & polypins, gins, ciders, shirts, glassware... it's all available. Plenty of space for social distanced shopping, hand sanitizer at the ready. Exmas wooden ornament gift for the first 100 customers. Open 10am - 4pm, Mon - Fri. See you soon!
Exmoor Ales welcome CAMRA members, thank you for your support!
The sooner the pubs are safely opened the better for all. Until then, ordering from our webshop delivers our bottled beers or draught ales in polypins direct to your door throughout the UK.
Enter the code CAMRA10 at checkout in our webshop for 10% off through June*. Delivery fee is included in all purchases throughout the UK mainland, excluding the Highlands.
*One-time discount per person, not to be used with any other offer. Code can be applied any time through the month of June 2020.
---
Quantock Brewery wins SIBA Supreme Champion Cask Award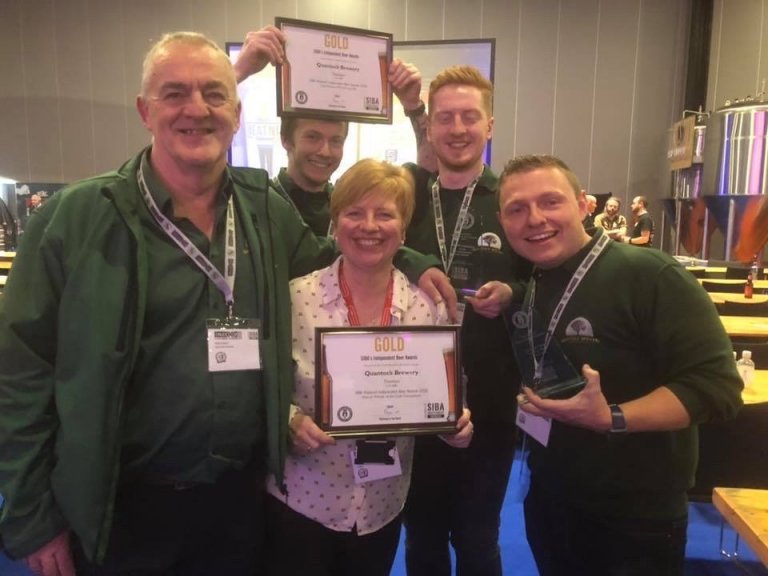 Cheryl Ford, the Managing Director of Quantock Brewery told us, "I am extremely proud to announce that at last nights SIBA National Beer Awards 2020 we were crowned Supreme Overall Champions of the Competition for TITANIUM in CASK." This is brilliant news from the SIBA National awards at their BeerX event in Liverpool. This award is the trade equivalent of CAMRA's Champion Beer of Britain, so should really put Quantock in the spotlight.
For full press release see https://www.siba.co.uk/2020/03/13/quantock-wye-valley-and-eight-arch-brewing-earn-best-beer-in-the-uk-awards.
---
Exmoor Ales
His Royal Highness the Prince of Wales at the National Parks Big Picnic at Simonsbath on Exmoor on 17th July 2019, celebrating the 70th Anniversary of the National parks and access to the countryside act (1947). Prince Charles was impressed as he sampled the Exmoor Beast from Exmoor Brewery.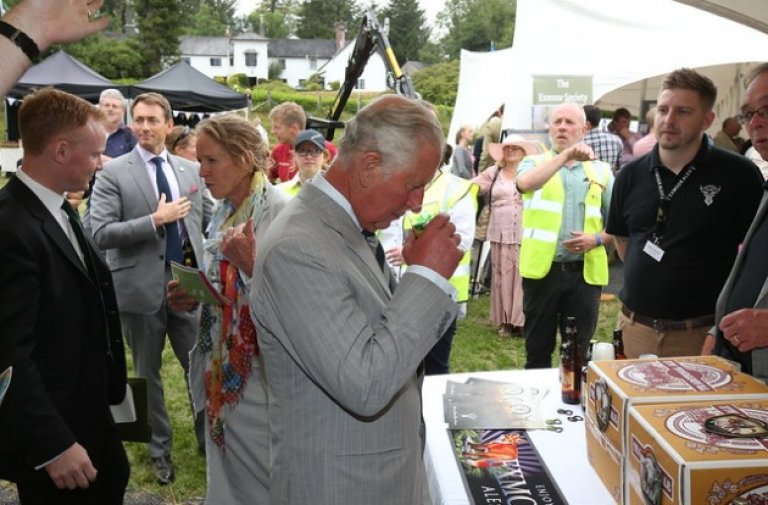 GIN MEETS BEER AND THE RESULT IS THE GROUND-BREAKING EXMOOR GOLD GIN FROM WICKED WOLF
Exmoor Ales was the first brewery to produce a golden ale with Exmoor Gold back in the 1980s, while Wicked Wolf was the first gin-maker on Exmoor. So it seems only right that the two of them have got together to produce the limited edition Exmoor Gold Gin, the first gin to incorporate in its ingredients a distillation of beer.
Click here to download the full press release: Exmoor Ale meets Wicked Wolf.
Silver Award Certificate for Exmoor Beast
Mick Cleveland presents the Exmoor Brewery Silver Award Certificate for Exmoor Beast in the "Barley Wine & Strong Old Ale" Category in the South West Regional Champion Beer of Britain 2017.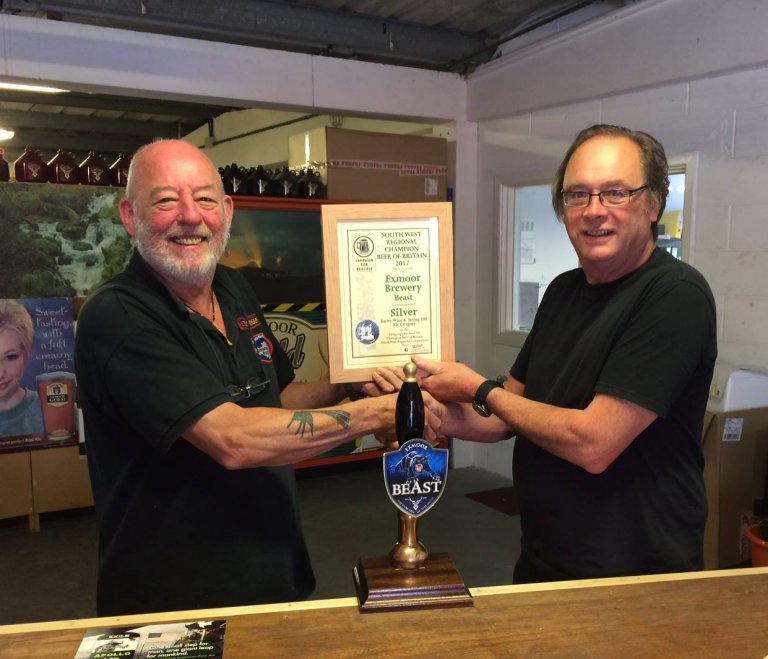 Exmoor Ales rolls out its 'EXILE' series of beers
BEST KNOWN for the original golden ale Exmoor Gold as well as the likes of Stag and Beast, Exmoor Ales is also rolling out its 'EXILE' series of beers, a range of small batch, modern style, limited range beers that differ from its regulars and were introduced in 2017. Exmoor Ales Press Release
Next summer marks the 50th anniversary of Apollo 11 landing on the Moon, and Exmoor Ales of Wiveliscombe, Somerset, has started the celebrations early with Apollo, the latest release in their 'Exile' range, one of several small-batch, modern style beers introduced in 2017 and which differ from the brewery's regular portfolio. Download full details: Exmoor Ales Apollo Press Release.
---
Quantock Brewery
Quantock Titanium West Coast IPA By Quantock Brewery - British Craft Beer Review:
https://www.youtube.com/watch?v=la6cCtTi_50.
Quantock did rather well at this years SIBA South West Awards, walking away with 4 awards.
* Wills Neck – Bronze – Cask British Bitter up to 4.4%
* Rale Head – Bronze – Bottle Bitter up to 4.4%
* Titanium – Silver - Premium Pale Ales 5.5% to 6.4%
* QPA – GOLD – Cask Session Pale Ales up to 4.4%
Although we didn't win overall gold for the day, we walked award as the highest honoured brewery from the event, no other brewery took 4 awards.
It also means that QPA will be entered into the national finals at BeerX in 2019.
Reported by Jodie Norris, National Craft Manager at Quantock Brewery.
2 younger brewers, James and Dan, are now doing Small Batch brews, this will be a monthly item only available in small runs and only available the last weekend of each month at our Taproom. As you may be aware, we did our first one of these last month, which was our Milkshake, it sold out in just 4 hours, so those wanting to taste it need to make sure they are hear on launch days. See our website for more information and dates.
---
Butcombe Brewery
£4million investment for Butcombe Brewery
A well-known brewery has decided to expand it's operation with a huge investment including buying a new facility in Bridgwater. Butcombe Brewing Company has invested in four new projects costing £4 million including a new craft beer production unit, newly installed packaging lines, alongside a beer storage and delivery facility in Bridgwater, creating 12 local jobs.
Full story at http://www.somersetlive.co.uk/news/somerset-news/what-butcombe-brewerys-4million-investment-722738.
The Liberation Group acquired Butcombe Brewery in November 2015, bringing together two of Britain's best-known independent brewery and pub companies, which have 94 pubs, bars and eateries, two breweries brewing over 30,000 barrels of award winning beer as well as retail and wholesale operations employing more than 750 staff.
The Liberation Group, the award winning pubs, eateries and drinks business in the Channel Islands, was formed in 2008 following a management buyout backed by Legal & General Capital, through LGV Capital supporting a management team led by Mark Crowther. The Company has established itself as the leading pub and drinks business in the Channel Islands, with 75 predominantly freehold pubs, the Liberation Brewery and two retail and wholesale drinks supply businesses.
Butcombe Brewery was founded in 1978 and is the leading brewer and pub operator in Somerset, Bristol, Bath, the Mendips and the Cotswolds, with 19 managed pubs and the multi-award winning Butcombe Brewery. The company prides itself on its traditional, classic pubs, prize winning beers, as well as Ashton Press ciders from its wholly owned subsidiary, the Long Ashton Cider Company.
---
SOMERSET GREEN HOPS
Below is an article written by Ian Pearson of Stowey Brewery
SOMERSET HOPS!
Somerset is not known for its hop growing, on the whole, people associate Somerset with cider orchards and perhaps cave aged Cheddar. However at the end of a secluded garden in the village of Nether Stowey, in the Quantock Hills, grow probably the county's only semi-commercial hop crop. Originally three hop rhizomes were planted. Now, whilst hops grow like weeds, they can be a little temperamental to start with and only one took, the only problem is that no one is quite sure which one did so and the plant is either an East Kent Goldings or Fuggles. Whatever, it's a Kentish hop and perfect for making a green hopped beer in the early autumn. The time of the hop harvest came. Ian of Somerset's smallest brewery, the Stowey Brewery, waited for white vans full of Slovenian gypsies to turn up to help him out, but in vain. So the entire crop of four Sainsbury's carrier bags had to be harvested by hand with only Steve Wright on Radio 2 to keep him company. With the harvest gathered it was time to make the beer. The decision was made to make two small batches of beer, a classic English Bitter and American style pale ale. When designing a recipe, great care is usually taken to get the right balance of malt and hops and to ensure that it has the precise degree of bitterness. This involves taking the 'alpha acid' measurement of the hops to get the perfect number of Europeans Bitterness Units (EBUs) and this is usually measured to the gram. These beers were measured in carrier bags! And it was one carrier bag per brew. The bitter contained pale and crystal malts and a classic ale yeast, the pale had maize and wheat added to the barley malt with an American West Coast yeast. The former was made at a higher temperature than the US style one to create slightly more complex beer. And the end result – well who better to try it than the local CAMRA branch members. So, a charabanc was organised from Watchet and half a dozen beer aficionados came along to taste the beers. And their verdict? 'It was generally accepted that the beer was of high quality'. Praise indeed! To sample these small batch ales have a look at www.stoweybrewery.co.uk for details of the ales in production and where to find them.