Public Transport
Hi all. This is the public transport page, which will hopefully give you all the current info on the public transport in our branch area. This will include routes and times and most importantly which pubs you can visit using public transport. Our Public Transport officer is Phil Emond who is an expert in the field and also has a little insider information when it comes to Public Transport.

Contact details of all Public Transport Operators in Somerset Branch
All Bus Services details can be found on Traveline web site at https://www.traveline.info. Just enter the place you wish to travel to and all services at that point will be shown, including time table, all stops and route maps.
Bus Operators in our Branch
Buses of Somerset. Damory Coaches. Dartline. First West of England
Hatch Green. South West Coaches.
National Express Coaches
Bridgwater, Taunton, Wellington & Yeovil. Services can also be used between local points pre-book or pay driver.
Book on line via CAMRA Members Web Site for 20% discount on all services. Maximum of 4 per-booking. Promo code CAMRA.
Trains
All Train Operating Companies can be found on www.Nationalrail.co uk
Cross Country Taunton
Great Western Trains Bridgwater, Highbridge for Burnham, Taunton & Yeovil Penn Mill
South West Railway Crewkerne & Yeovil Junction
West Somerset Railway. Various Stations All above companies have extensive Web Sites.
Correct 01/09/2019
NEWS
Press Release: Buses of Somerset Publishes Three Real Ale Guides to it's Bus Services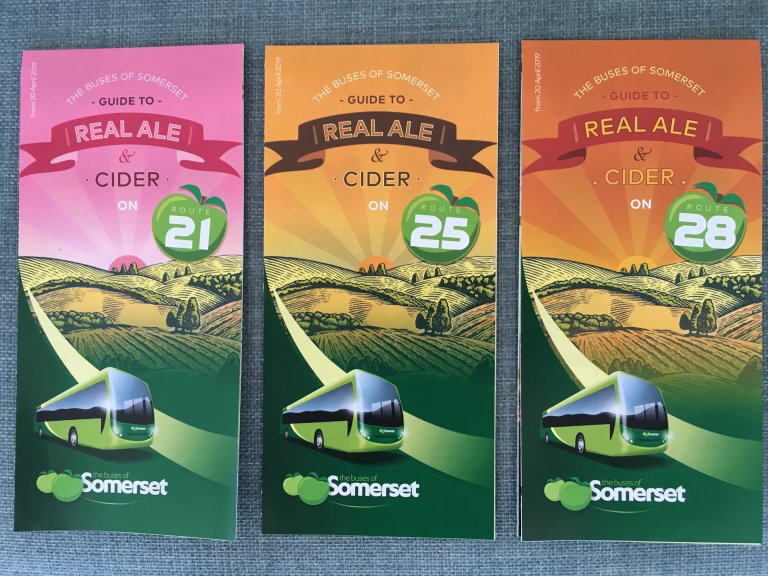 Buses of Somerset and the Somerset Branch of the Campaign For Real Ale (CAMRA) have joined forces to produce pocket guides listing Real Ale pubs that can be reached by travellers on three of the bus routes radiating from Taunton.
The routes concerned are the 21 (Taunton-Bridgwater-Burnham), 25 (Taunton – Wiveliscome- Dulverton) and 28 (Taunton-Willliton-Watchet – Minehead). The leaflet for route 28 also mentions pubs which can be reached by trains on the West Somerset Railway. They also include the all -important timetable information so that those enjoying a beer, a cider or a meal will know at what time the bus that will take them home (or on to the next pub) is due.
The listed pubs are a mixture of town and village hostelries, serving ales from a variety of breweries including the award-winning independent brewers of Somerset. In addition to the enjoyment of visiting the hostelries buses offer good views of the Somerset countryside while someone else does the driving and a day ticket, giving freedom of the Buses of the Somerset network can be purchased for £12 (cash or contactless) from the driver on the day of travel or £11 from the FirstBus app.
The leaflets can be obtained from Buses of Somerset Bus Stations or Tourist Information Offices.
Thanks also go to the East Devon Branch of CAMRA who advised on pubs in Bampton for the route 25 guide.
To download timetables use these links:
Route 21: https://issuu.com/cornwallbykernow/docs/camra_guide_21
Route 25: https://issuu.com/cornwallbykernow/docs/camra_guide_25
Route 28: https://issuu.com/cornwallbykernow/docs/camra_guide_28
FOR COMMENT ON THIS RELEASE CONTACT:- Somerset Branch CAMRA Public Transport Officer moc.yks@tm7tm4.ejp
Pubs on Exmoor National Park - 2019 Update.
Exmoor Pubs & Bars for Google Maps or Exmoor Pubs & Bars pdf. Full details of all of these Exmoor pubs can be found on What Pub: https://whatpub.com.
https://drive.google.com/open?id=18Q7gv9029PmFs0t9mVN12HpsAPq8MT1f&usp=sharing_eil.
The Exmoor National Park in the South West of England was created in 1954 as an area of outstanding natural beauty. Covering 267 sq.miles (692 sq.km.) it is a fascinating area, its highest point is Dunkery Beacon 1705 ft (519 M) the highest in Southern England out side of Dartmoor. Over 20 Grade 1 listed buildings on the Moor, 10 are churches some dating back to early 13th century. 8 rivers from 8 to 54 miles flow through the park.
29% is in Devon, which is covered by North Devon Branch and 71% in Somerset covered by Somerset Branch. It has a population of 10.600 and nearly 50 places of interest. On a clear sunny day, it is joy to have it so close to where we all live, however Mother Nature can cause many problems when it is misty and the cloud base is low. So whether it is sunny and warm, or cold wet and miserable, how about a visit to one of its many Pubs and Bars.
Amazingly, Exmoor has 42 with in the park boundary with 4 just a short walking distance out side. Somerset has 27, including a Deli Store in Dunster, and North Devon has 19. All but 10 have accommodation offering a huge amount of beds in what is relatively small area when compared with other National Parks in the UK. Find out more at https://www.visit-exmoor.co.uk.
They all sell Real Ale and most Real Cider so hopefully it will encourage you all to explore what is to many, on your door step.
For the 8 locations that offer a bus service details can be found on line by selecting the Village name then add 'Bus Service'. Only Dunster via the Steep has a daily service all others are Monday to Saturday except Public Holidays, also for Dunster the West Somerset Railway is close by.
Updated May 2019.
20% Off National Express Offer for CAMRA members
National Express offer CAMRA Members 20% discount on all services. Travel any time for any reason, the only restriction is no more than 4 per ticket, more than 4 book extra tickets. Bookable only on line via CAMRA website at https://members.camra.org.uk/group/guest/national-express. 20% discount taken when on final booking. Please see the table at the bottom of this page for additional services that can be included e.g. night service Plymouth to Edinburgh via Glasgow. Various locations in far north by Scottish City Link from Glasgow are available.
Good Beer Guide 2020
Phil would like to mention a few additions to pub details.
All pubs with a bus symbol only means that more than two services operate near or pass by the pub in question.
1) Please add to King William in Crewkerne services 40/96.
2) Add Rail symbol to Race Horse Inn in Taunton.
3) Add service 28 to the Star in Watchet.
Our branch entries show the bus service routes that passes with in 15min walk or half a mile of the Club/Pubs.
All service details please contact Traveline South West 0871 200 22 33 or create a journey planner from their web site at https://www.traveline.info.
Please be aware services can change at any time during the life of your GBG so please remember to check before you travel.
Breweries & Cider Producers by Bus GBG 2020
We produce various information to visit our Clubs & Pubs by Bus so I thought it might be an idea to show the nearest services to our Branch Brewers and Cider Producers. As with Pubs etc. not all are close to bus services. Do not forget check service details before travel and most important it is convenient for you to call.
All services details from Traveline South West 0871 200 22 33. You can create a journey planner from their Web Site. Page 43 has excellent Public Transport Information for all the UK. Please be aware that bus services can change during the life of your current GBG so check before travel.
Breweries, Cider/Perry Producers please check before travel that you may visit, as sometimes this may not be convenient.
Details of Somerset Branch Breweries are in GBG 2020.
Cider/Perry: Producers available on branch web site or from Branch Cider/Apple Officer Stephen Hawkins on ku.gro.armac.tesremos@retsambew.
Breweries
Bason Bridge.
Black Bear part of Bear Pub Wiveliscombe.
Odcombe part of Masons Arms Pub Odcombe.
Cotleigh, Exmoor have shops as part of brewery
Quantock have shop and licensed bar open Mon to Sat from 10.00
Full details available in Good Beer Guide. 2020
Cider/Perry Producers
Bridge Farm Cider East Chinnock
Hecks Farmhouse Street
Honey Pot Farm South Petherton
Loaders Farmhouse Cotford-st-Luke
Parsons Choice West Lyng
Sheppys Cider Three Bridges
Details of above can be found on our web site or contact Stephen Hawkins, Branch Cider/Perry officer, e-mail: ku.gro.armac.tesremos@retsambew
As in all cases for Breweries Cider/Perry Producers, it is wise to make contact before you travel.
For full details of bus services contact Traveline 0871 200 22 33 or https://www.traveline.info.
Additional Add-On Services that qualify for the 20% Off National Express Offer for CAMRA members
Service
Route
Operator
3
Ventnor - Ryde (Hovertravel)
Southern Vectis
4
East Cowes - Ryde (Hovertravel)
Southern Vectis
9
Newport (IoW) - Ryde (Hovertravel)
Southern Vectis
28
Taunton - Minehead

(Town & Butlins)
Buses of Somerset
36
Leeds - Ripon
Transdev
300
Milton Keynes Coachway - Milton Keynes (town centre)
Arriva
500
Liverpool - Liverpool Airport
Arriva (North West)
724
Harlow - Watford - Heathrow Airport
Excel
900
Edinburgh - Glasgow
Scottish Citylink
914
Fort William - Glasgow
Scottish Citylink
915
Portree - Glasgow
Scottish Citylink
916
Uig - Glasgow
Scottish Citylink
926
Campbeltown - Glasgow
Scottish Citylink
976
Oban - Glasgow
Scottish Citylink
X39
Bristol - Bath
First West of England
X1
Bristol - Weston-super-Mare
First West of England
56 & 56A
Exeter - Exeter Airport
Stagecoach South West
702
London - Windsor/Bracknell
First Berkshire & Thames Valley
737 / 747 / 757
Bradford/Leeds - Leeds Bradford Airport
Arriva t/a Yorkshire Tiger
757
Luton (town centre) - London
Arriva (The Shires)
758 & 768
London - Hemel Hempstead
Arriva (The Shires)
840/3/5 & X40
Leeds - York - Whitby / Scarborough / Bridlington
Transdev Blazefield
A1
Bristol - Bristol Airport
First West of England
BUS
Southampton - Southampton T2 - West Cowes
Red Funnel
HT1
Portsmouth / Southsea - Ryde
Hovertravel
JET
Southampton - Southampton T2 - West Cowes
Red Funnel
LGW
Oxford - Gatwick Airports
Oxford Bus Company
LHR
Oxford - Heathrow Airport
Oxford Bus Company
OXF
Gatwick or Heathrow Airports - Oxford
Oxford Bus Company
T3
Wrexham - Barmouth
Lloyds Coaches
TP
Derby - Manchester
Eric W Bowers Ltd
WL1
Portsmouth - Ryde
Wightlink
X25
Reading Rail Station - Heathrow Airport
First Rail/Air
X43
Skipton - Nelson - Burnley - Manchester
Transdev
X5
Cambridge - Milton Keynes - Oxford
Stagecoach (Bedford)
X6
Kendal - Barrow-in-Furness
Stagecoach (in Cumbria)
X62
Leeds - Hull
Stagecoach in Hull
X90
London - Oxford
Oxford Bus Company
BHX/OXF
Oxford - Birmingham NEC/Airport
Oxford Bus Company
B66
Newcastle upon Tyne - Blackpool
JH Coaches were Classic coaches
A4
Bath - Bristol Airport
Bath Bus Company
853
Oxford - Gloucester
Swanbrook Travel
60
Reading (Mereoak Park & Ride) - Reading (town centre)
Reading Bus
SF2
Yeovil - London (Hammersmith)
Berrys