Somerset Branch Real Ale & Cider Festival 2022
A Pint (Or Two) and a Return to MInehead Station
POSTPONED
After two years enjoying the welcome offered by the Somerset and Dorset Railway Trust at their Washford station home the Real Ale & Cider Festival organised by Somerset Branch of the Campaign For Real Ale (CAMRA) is returning to what many regard as its "rightful" home. Between Friday June 5th and Sunday June 7th 2020 the Festival will take place on the platform of Minehead railway station, the 17th time the event has been held there.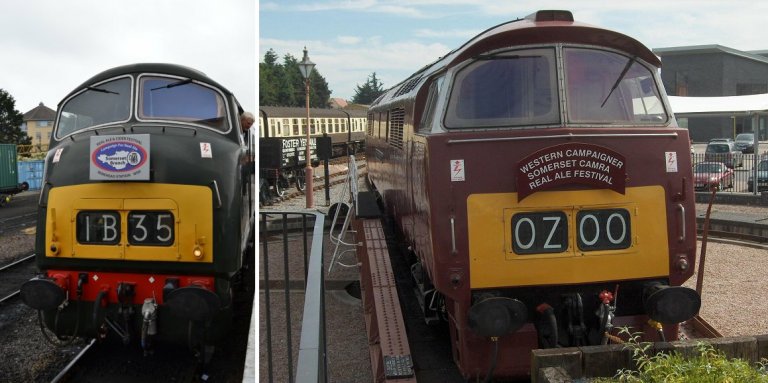 These dates coincide once again with the last three days of the latest "Vintage Diesels To The Seaside" Gala on the West Somerset Railway, an annual event when historic diesel locomotives temporarily displace steam engines at the head of trains between Bishops Lydeard, near Taunton, and Minehead. As the locomotives (some of which will be hired in especially for the event) were to be found at the head of trains in the 1970's this chimes nicely with the founding of CAMRA in the early part of that decade. Nearly half a century of dedicated work by many volunteers means that traditional cask ale and historic locomotives are both thriving.
The Festival will feature over 30 real ales and ciders and will open at 12 noon on each day. Stop tap will coincide with the departure of the last train back to Bishops Lydeard on Friday and Saturday and will be at 4 p.m. on Sunday. The beers will feature some brews very rarely if ever found in pubs in Somerset plus representatives from the award winning breweries in the county itself. Visitors will be invited to vote for their favourite beers and ciders. Hot and cold food will be available from the Turntable Café on the station and there will also be a picnic area on the platform so that visitors can enjoy their drinks and food in the early summer sunshine. A static carriage will also offer an indoor drinking area.