Pints of View Online Articles
Scroll down for articles about Watchet, Southampton, Cardiff, Edinburgh, Reykavik, Gibraltar and Barry Island in Wales.
Brian Whiteside
It was with great sadness that we heard the news that Brian Whiteside, a long standing member of the Somerset Branch of CAMRA (Campaign for Real Ale) had passed away on 18th February 2022 aged 85. He took an active role in the branch for many years; in fact he was one of the branch's original members back in the 1970's. For many years he was the Brewery Liaison Officer for The Cottage Brewery who at the time was based in Lovington, near Castle Cary and regularly attended branch meetings, no matter where in the county they were.
He always loved to help out at the Somerset CAMRA's Annual Beer Festival, held in various locations over the years but most recently at The West Somerset Railway Station in Minehead. I am told he attended the very first beer festival at Bickenhall Farm back in the late 1970's at which there were 7 cask conditioned ales and 145 attendees.
Unfortunately, the pandemic put a stop to festivals and meetings so it was really sad to hear of his passing. He will be missed by many current and former branch members.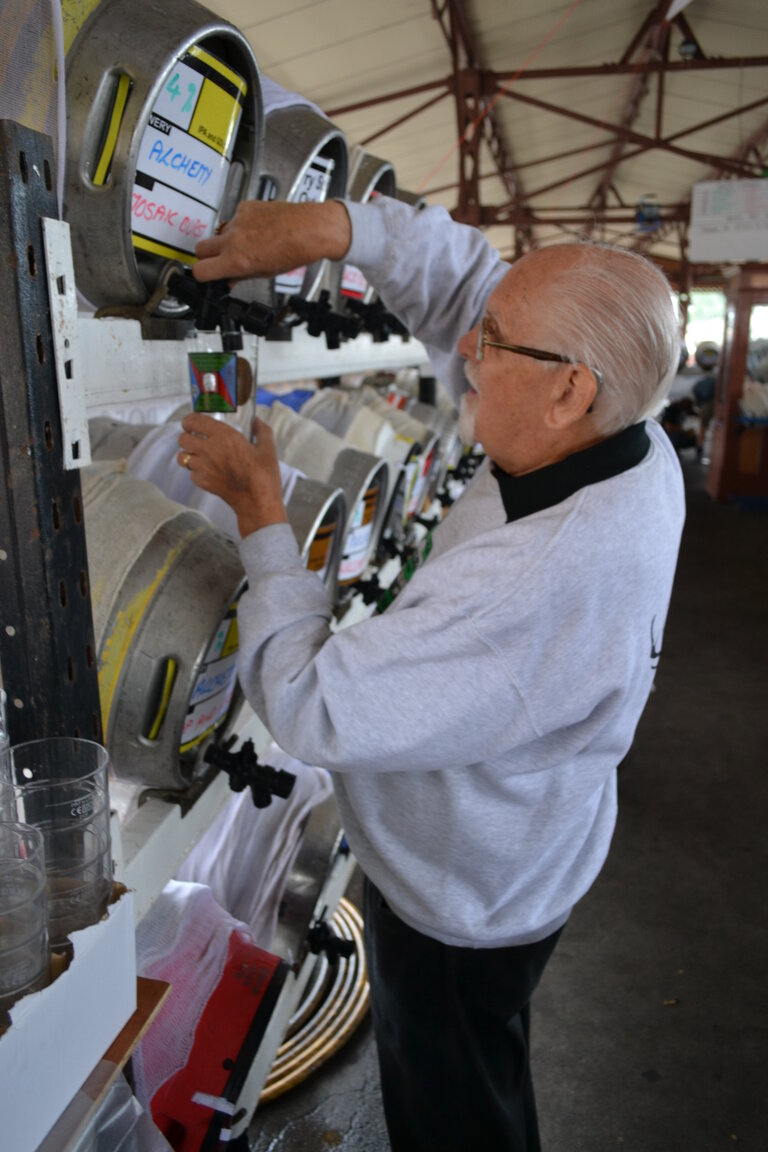 Brian doing what he loved most in CAMRA, serving pints of Real Ale to thirsty festival goers.
---
Get this book if you are going to visit pubs and bars in London
Book Review
My first one for many months yet worth the effort.
Latest edition of London's Best Beers, Pubs & Bars. Edition 3 by Des De Moor
If anyone has the slightest chance of visiting London with an interest of visiting many Pubs & Bars then this is the 'Bible' you need.
Filled with nearly 300 pages of Pubs Bars and Brewery's including various Bottle Shops, it is an amazing publication.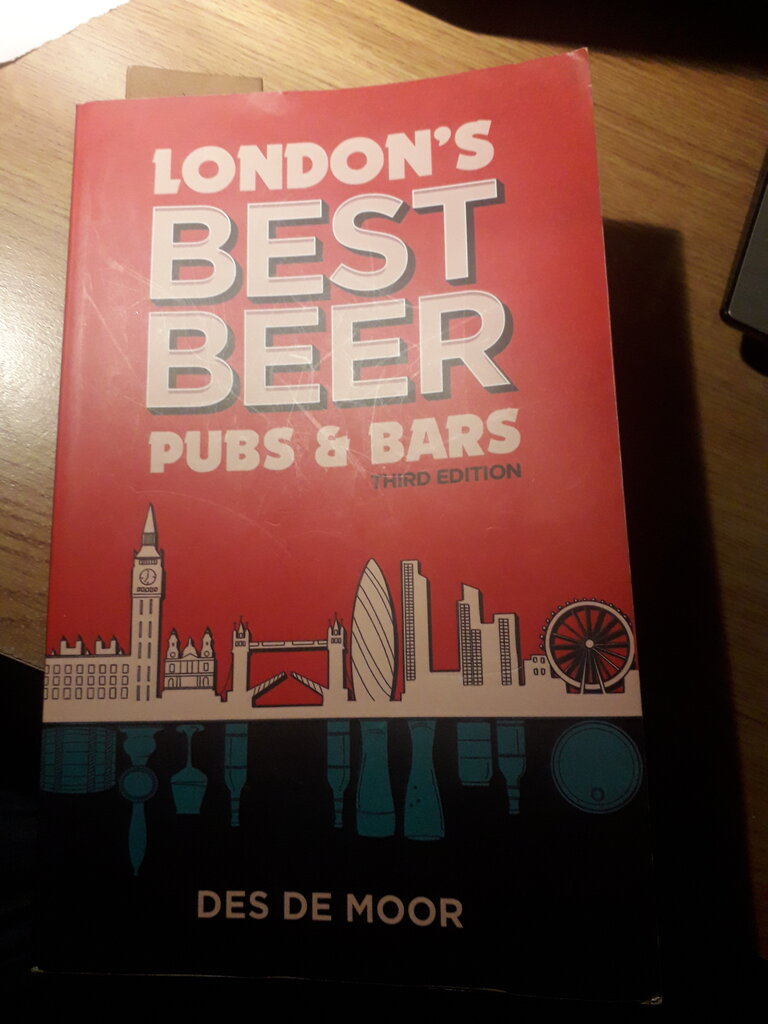 Des claims, although does not advise, that if you wanted to visit one entry every evening it would take over 10 months to do so, and that's before you include the Try Also's!
141 Breweries are listed and over 340 venues.
The first few pages give you the coloured map of London showing the 6 separate areas with all the various codes that are used. Areas are easy to find with the top of every page in the corresponding colour.
All entries give Public Transport details of nearest Bus Routes, Underground Station Dock Lands Light Railway etc, some local history may be included.
The first 72 pages are full of interesting details about London its history in brewing and lots more.
Some well-accredited Country entries are also shown outside the main scope of the guide ending with an Appendix giving a great deal of additional information.
Highly recommended. Obtainable from CAMRA Books £16.99, less members discount.
Phil Emond.
---
Pubs and Clubs of Watchet in West Somerset
See What Pub? for full details of each pub or club. https://whatpub.com.
The Star Inn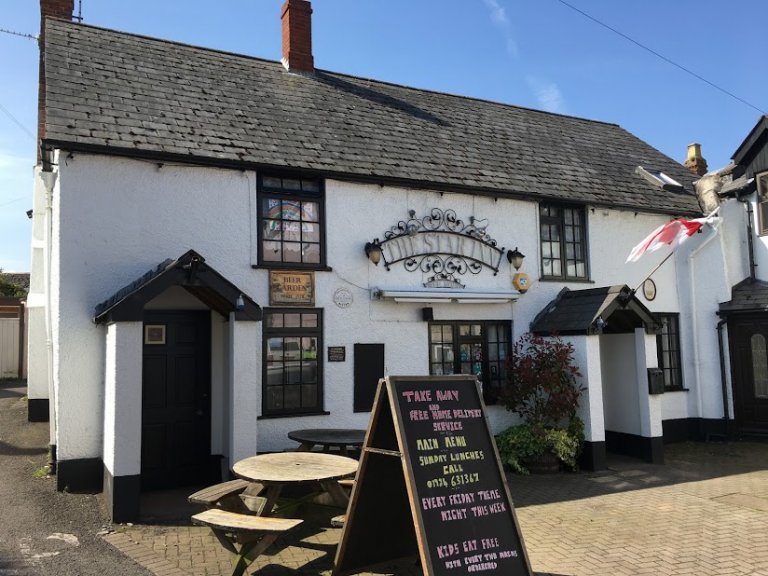 This twice Somerset CAMRA Pub of the Year has been in the GBG for over 19 consecutive years and was runner up in 2019. It is renowned for friendly staff and its congenial atmosphere. The pub hosts dart, quiz and boules teams and holds music nights in the summer. It also does port and cheese nights and is home to the Sunday night "Bad Boys Club". Mick's beer tours have run over 100 trips from the pub. The Star has a high reputation for its locally sourced food.
Pebbles Tavern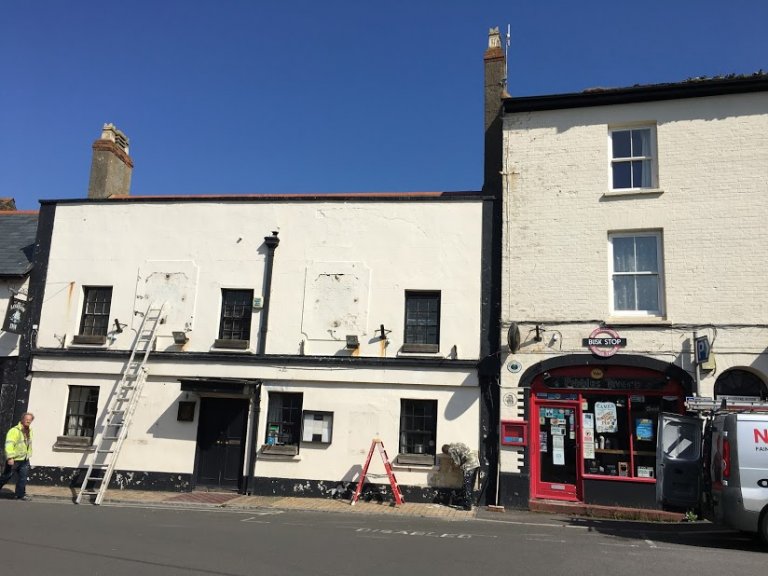 This small and unique tavern has won numerous CAMRA awards for Cider Pub of the Year including 2020 and in 2015 was the 'runner-up' National Cider Pub of the Year. As well as the ales there can be up to 30 ciders, 60 gins, 24 rums and 64 whiskeys. You are allowed to bring in fish and chips from the shop next door. Poetry night is first Tuesday of month and regular music nights include folk, sea shanty, jazz and acoustic.
The Esplanade Club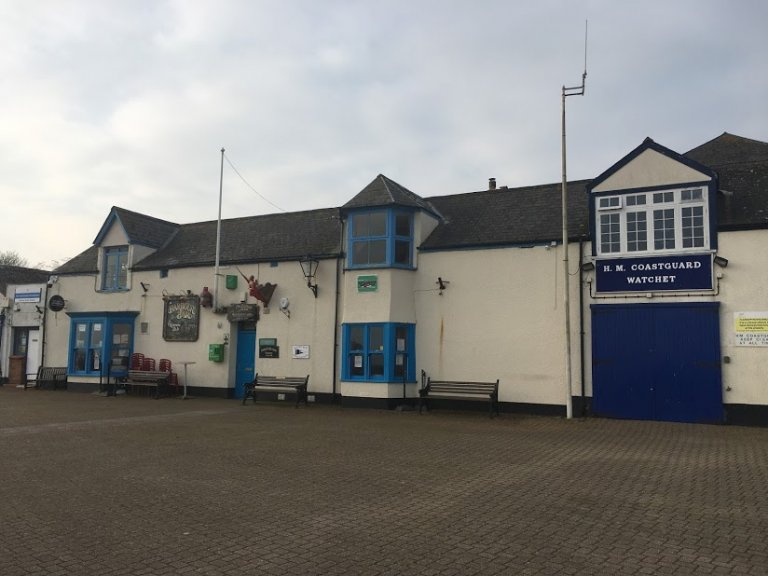 Built in the 1860's as a sail making factory and now home to the Boat Owners Association, the club is an archive of local history and memorabilia with unique murals and even its own Tardis. There are great views over the Marina and Bristol Channel. The club is a busy music venue with live acts every weekend, open mic on first Tuesday of the month and folk every fourth Wednesday. Winner of Somerset CAMRA Club of the Year in 2020.
The Bell Inn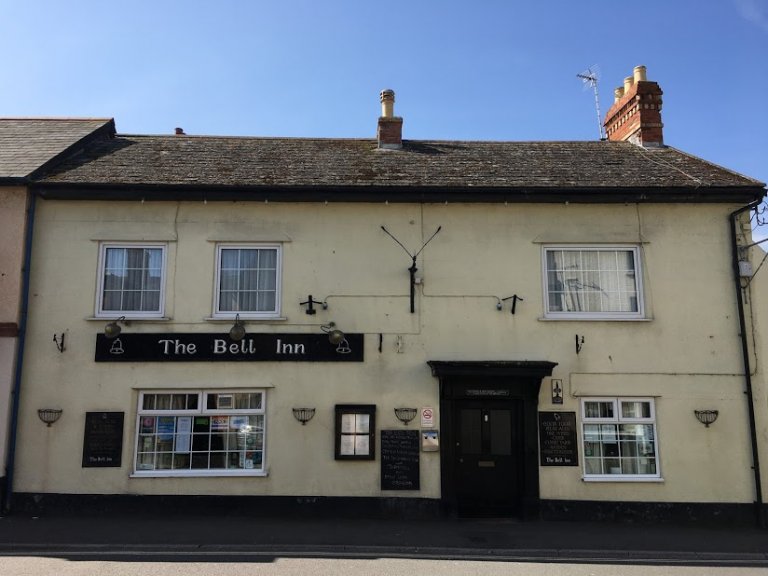 This is the oldest pub in Watchet dating back to the 16th Century and it boasts many fascinating period features. The current function room used to be stables, with horses being brought in directly through the bar! A serving hatch still exists between the pub and The Old Foundry in Swain Street, where beer was passed directly to the workers. This traditional, friendly, family run pub is situated just 100 yards from Watchet's picturesque Marina. There is a good selection of well kept real ales and ciders and there is a beer, cider and music festival held in August. There is a large menu of freshly prepared, homemade dishes, including a Children's Menu.
The pub hosts six skittles teams and two quiz teams competing in the local quiz league. There is also a regular quiz held in the pub and monthly Open Mic Nights and Live Music.
The West Somerset Hotel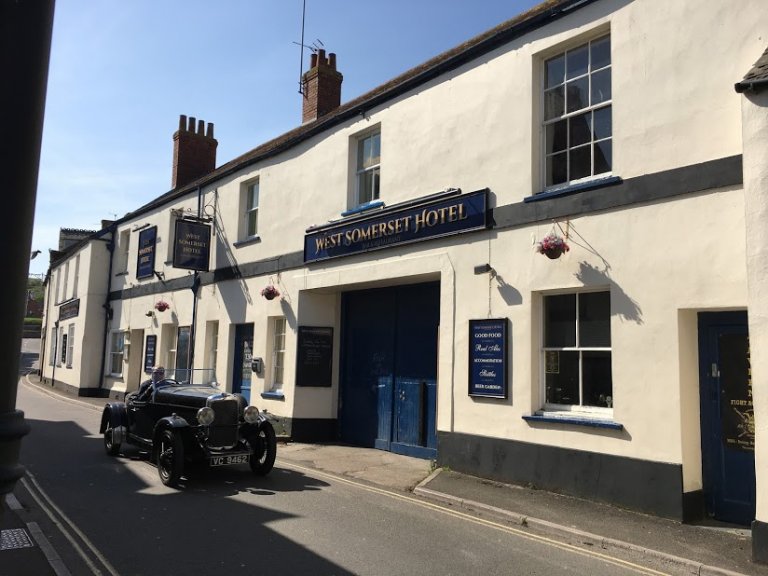 A 16th century coaching inn in an attractive village at the foot of the Quantock hills. There is a Large open plan bar with a pool table on the right. There are three handpumps on the bar - two in use in winter months and all three in summer. The pub has skittles, darts and quiz teams. There are seasonal real ciders available. The pub provides good quality, locally sourced food with meals available in the summer months.
Popular with locals and near the West Somerset Railway and therefore it is frequently used by railway enthusiasts. Numerous railway photos and paintings adorn the walls and West Somerset Rail passengers get 10p of a pint and 10% off all food on production of the days travel ticket.
The London Inn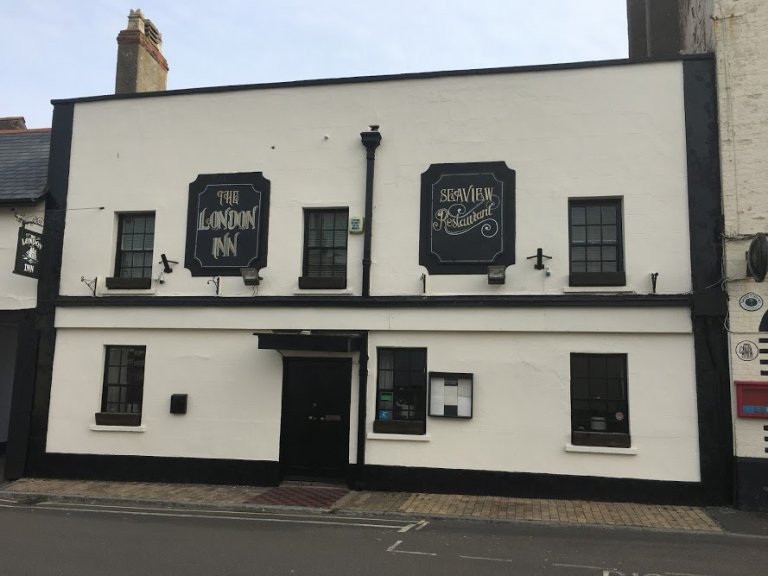 Late C18 Grade II listed building with a bar at the front and a restaurant at the back. Two handpumps, one in use during winter months. An Enterprise Inn which is due to change management soon.
The Royal British Legion Club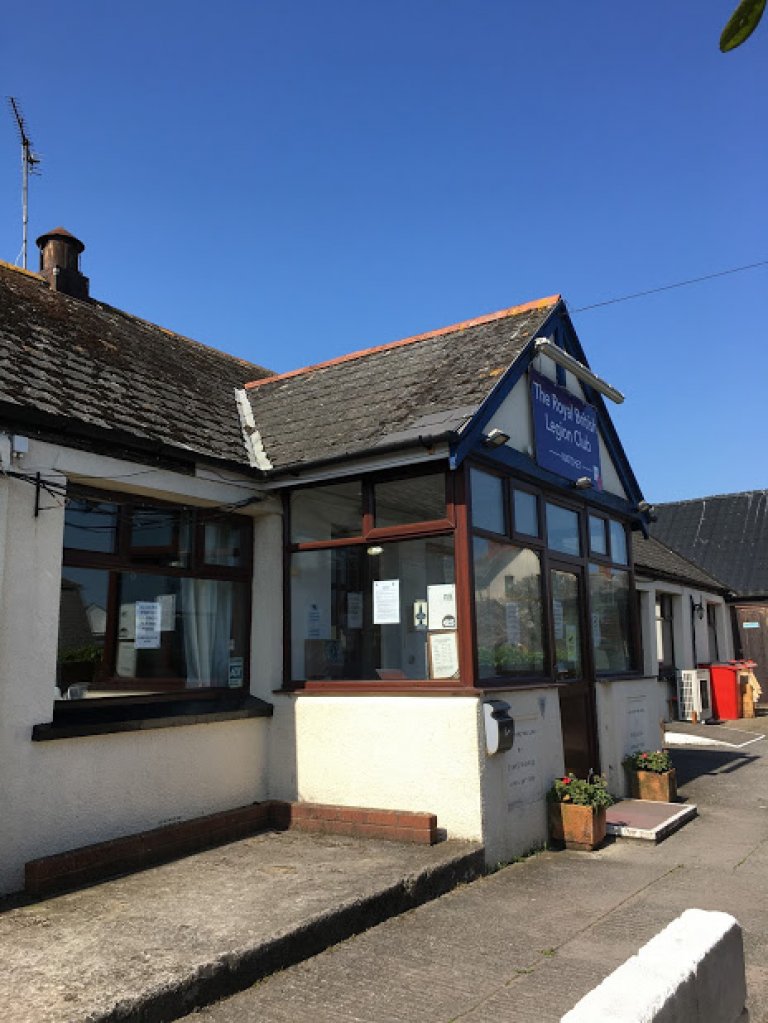 CAMRA members and other visitors are welcome to this club which is just a few paces from Watchet's historic harbour. Almost since the first building stone was laid back in 1930, the Club has provided a social centre for its members and their guests. The Club is undergoing a substantial refurbishment. The comfortable main bar is equipped with a stage for regular live entertainment programme and bingo. Indoor sports include skittles, darts, pool and snooker. A separate Lounge with large screen television and conservatory is a facility for private parties, meetings and other group events.
---
TONY GOES TO .......... SOUTHAMPTON
I have been visiting Southampton on a regular basis for around forty years- as a passenger/crew member aboard the excursion steamers Balmoral and Waverley and more recently en route to cruises on P & O ships. Indeed, I was part-way through preparing this article prior to a voyage to Norway (which became a five night 'cruise to nowhere ') when the lockdown struck and we were forced to return to port! It's only now that I've managed to return to finish the job.
According to What Pub there are over eighty pubs and clubs within a radius of two miles of Southampton city centre so this piece will clearly be selective - some of the best and some of my favourites- leaving many more to be discovered.
Down on the waterfront is The Platform Tavern , a 19th century building built hard against the old town wall (part exposed inside) which itself dates from 1350. Entry to the main bar is via a porch containing stained glass, with an archway to the right leading into a dining area and a spiral staircase (staff only) heading upstairs. Seating is at tables with a mixture of stools,chairs, benches and deep armchairs and decoration consists of a proliferation of African artefacts including masks, musical instruments and wooden carvings. There is also an extensive collection of CDs with regular live music also featuring. There are five real ales on offer (usually two from Fullers and three varied guests) as well as cider and the usual selection of wines, spirits and keg beers. I chose the Norwegian Blue from Parkway and awarded it 3 on the Camra scoring system.
Photo 1 : Inside the Platform Tavern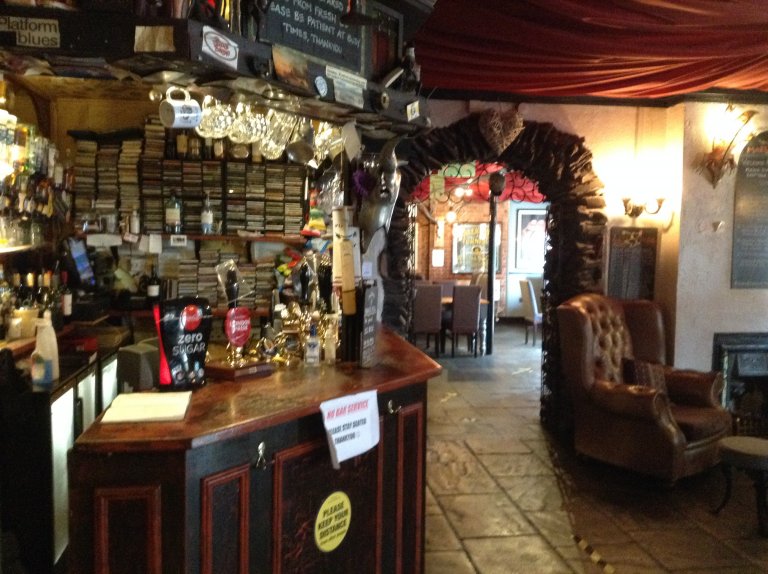 Close by is the Dancing Man, with an on site microbrewery of the same name. It is housed in the Wool House, a 14th century building which has served variously as wool store, Napoleonic prison, construction yard and arts space / maritime museum! From the front garden one enters into a large bar area adorned with local historic photos and facing this is a wide curved bar sporting six hand pumps offering Dancing Man beers: my choice was Jack of Diamonds which I gave a score of 4. Also available are eight of their own craft keg beers, real cider and a good range of spirits which are displayed on side shelving. There is a mixed selection of tables and seating and a sweeping staircase leads to the upper level restaurant. Additionally the brewing kit can be viewed through a window behind and to the left of the bar. This dog friendly pub also offers live music.
Photo 2 : Outside view of The Dancing Man (The Wool House)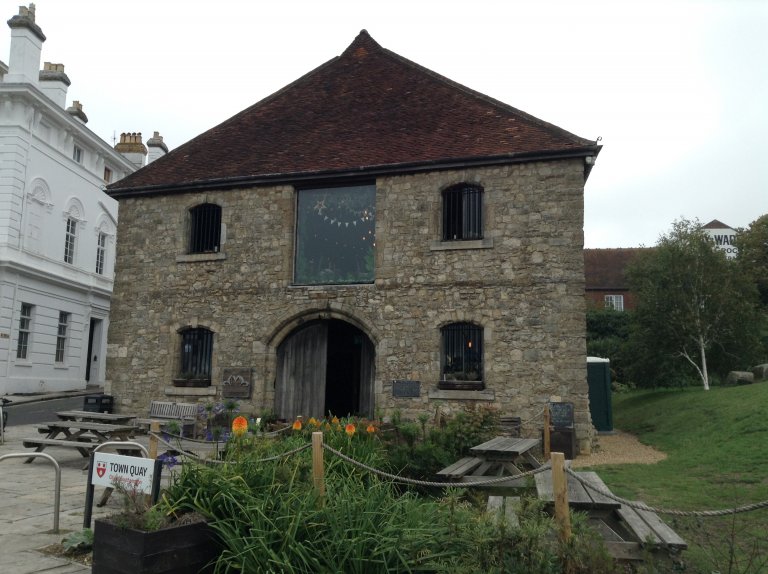 At the top of the town on Bedford Place is Beards and Boards (reflecting the owner's face -not a dig at the stereotypical Camra member- and his passion for skateboarding.This micro pub has something of an "industrial look" with a bench with stools down one side and tables with wooden benches on the other.There are also long tables with seating outside on the street: one of the few good things to come out of the covid lockdown being the local authority's partial closure of the road and a relaxation of the associated licensing laws! This is predominantly a craft outlet with ten ever changing keg taps but there are up to three cask ales plus four ciders. My choice was 5/4 Favourite from the Ascot Brewing Company which I assigned a score of 3.5. Tasting paddles are available: either three beers or eight set into a surfboard! If you find something you like they have an individual canning machine imported from Sweden and believed to be unique to this country: I used it to take home a Hanselei from Kona brewery in Hawaii so as to perpetuate the surfing theme. This dog and child friendly micro hosts tap takeovers, music nights and has board games and a games console available and though they don't do food you are welcome to BYO or order In from one of the many places nearby.
Photo 3 : Inside Beards and Boards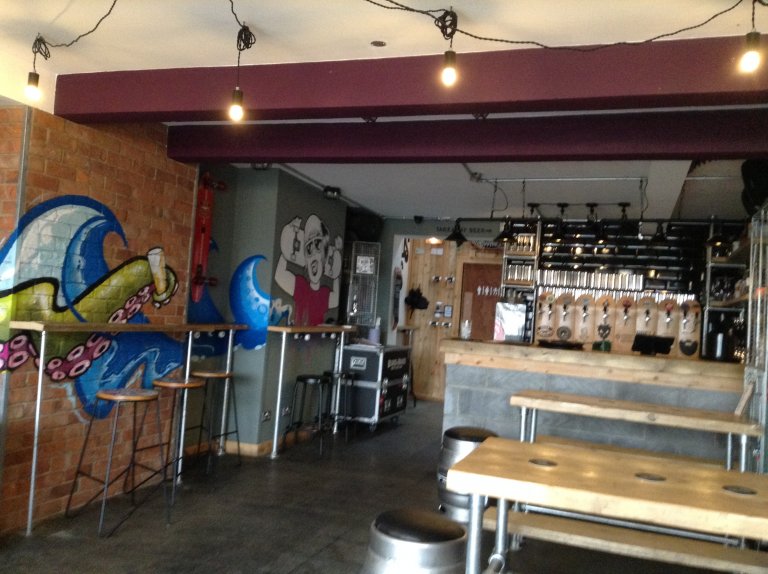 On the nearby Above Bar Street is Belgium and Blues: normally there are two real ales (currently none due to the low post-lockdown turnover) along with an extensive range of keg (British and Belgian) and a long list of bottles from Belgium plus two ciders. The basic but excellent food is also Belgian in style. This is a basement cellar bar with mostly comfortable alcove seating but also high tables and chairs in the area in front of the bar. At street level is a gin bar and brasserie with limited opening hours and there is occasional live music and tap takeovers.
A little further out along The Avenue is another micro: The Handle Bar. There is a large, partially covered decked street frontage with one large room with a bar to the left inside and a further raised room beyond. From the six pumps offering beers from around the country I went for Starting Gate from the Ascot Brewing Company and this received a score of 4 from me. There is a basic food menu of changing daily specials.
Photo 4 : Looking into The Handle Bar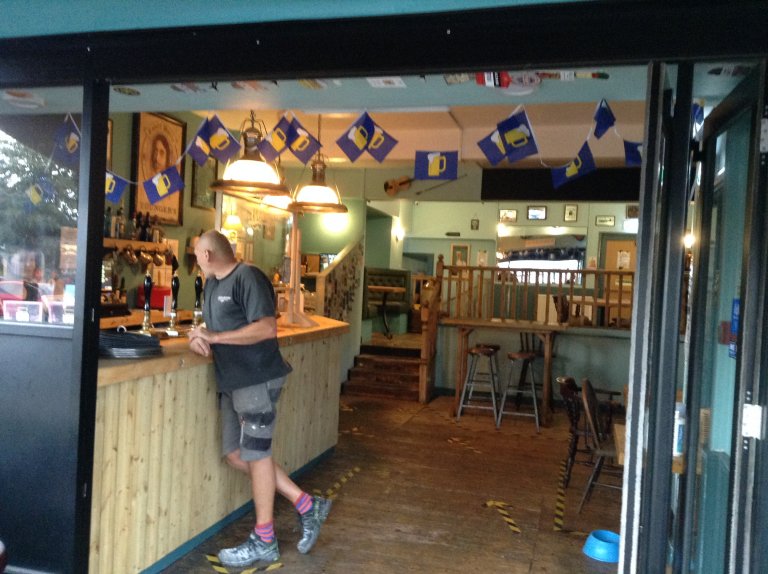 Not too far away in the Bevois Valley area is splendid neighbourhood pub The Guide Dog. It consists of a big open room with a long bar to one side and another small room at the back (The Dog House) with one small table outside on the pavement. Furniture consists of wooden tables and chairs and a bookshelf and board games are available. The main draw as far as ai am concerned is the eleven hand pumps serving chiefly local beers but a few from further afield. I selected the Steam Town In Loco Morello which achieved a rating of 4.5 and the highest of this review. The only food is a weekly Thai curry night which is frequently sold out.
Photo 5 : Exterior view of The Guide Dog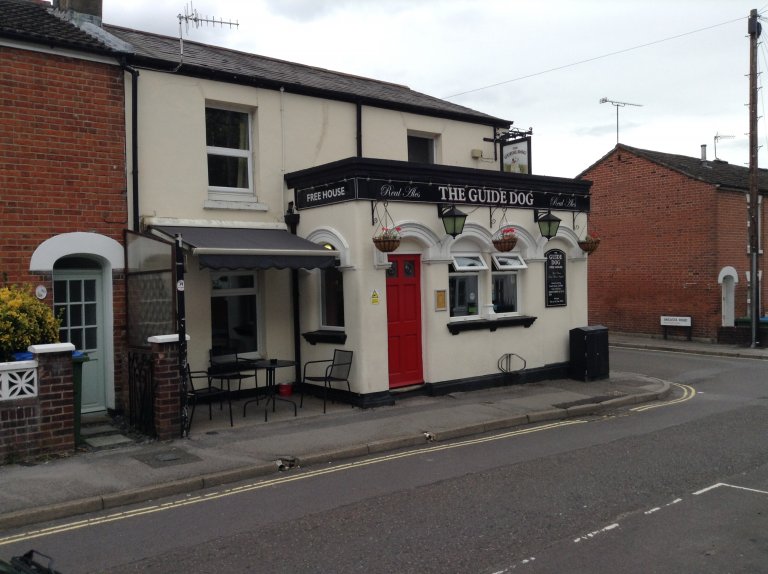 Two other pubs in this area -and both Victorian piles-are to be found almost alongside St.Denys railway station with names to fit the theme. The South Western Arms has a large brick and beamed bar with a raised area to the left and an upstairs area for functions plus traditional pub games (pool, darts and table football) and occasional music events. Decor is fairly minimalist with wooden tables and padded wooden benches and chairs plus displays of brewery mirrors, bottles and stone jars. An asset is the large, partially covers paved garden sporting trellis plants and a central well with (dribbling) fountain. The main draw for the serious real ale aficionado are the ten hand pumps with nationally sourced beers but there are also all the usual drink options for those who have not seen the light. On this visit my choice was Langham's Hip Hop which I gave a score of 3.5.
Photo 6 : The bar area of The South Western Arms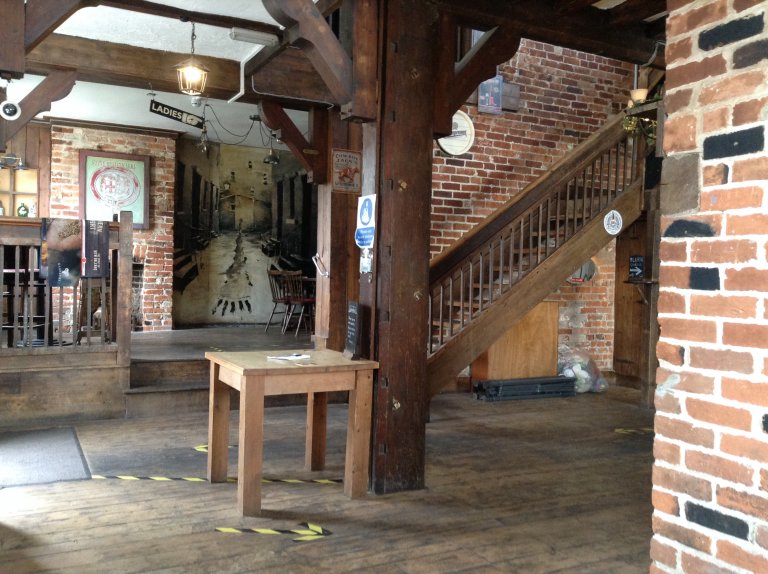 Just a few yards away is The Junction Inn, on CAMRA'S national inventory of historic pub interiors and Grade II listed: the long curved bar has seating surrounding it. Here too there is an extensive garden plus on-street seating: despite the busy railway line running alongside it provides a peaceful oasis with its many tables and chairs, children's play equipment and potted plants. Being a Greene King pub the beer choice on the four pumps is somewhat limited but I managed to enjoy my Timothy Taylor Landlord which I assigned a score of 3. Besides real cider meals are available lunchtime and evenings with dogs and families welcome and traditional pub activities on offer.
Photo 7 : Looking across the garden of The Junction Inn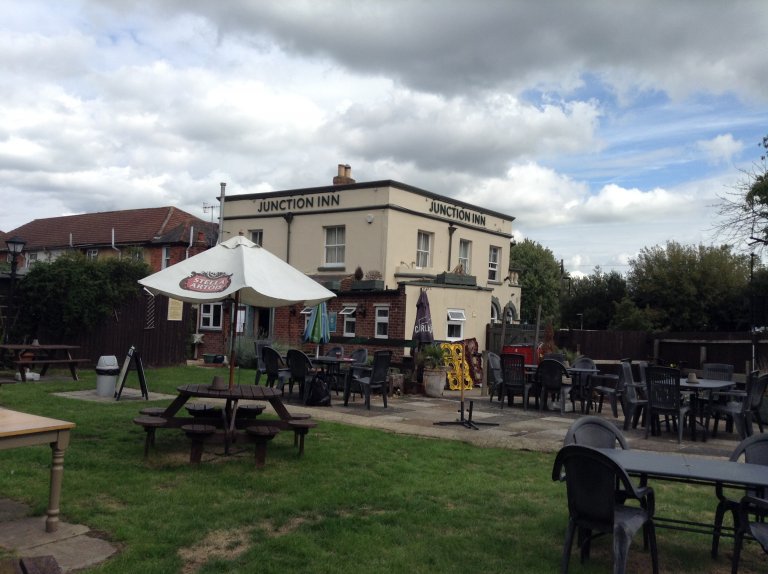 Finally I will mention a few of my favourite drinking holes in the Freemantle district of the city. The Wellington Arms is very much a locals local. The main room has booth seating plus stools at the bar with a back bar and a further room beyond which is mostly for pub meal style dining. Additionally there is a partially covered patio garden. There is a fireplace with large mirror and wooden surround; traditional lamps; plus a long corridor to the toilets displaying brewery mirrors and posters. Up to twelve real ales are on offer-primarily nationally available ones such as Sharps, Fuulers,St.Austell and Dark Star -and I tried the Gales HSB which I scored at 3.5. There is occasional live music and darts figures prominently.
Not too far away is The Waterloo Arms, mock Tudor in style with pavement tables at the front, a rear conservatory and paved garden at the back and one bar servicing three connected rooms. Features include brick fireplaces with wood burners, a mixture of bench seating and stools at the tables and once again darts are high on the agenda. The nine hand pumps dispense chiefly Hop Back beers due to an association with said brewery, but I opted for Mad Hare from Downton which I gave a score of 3. Food is mostly pub snacks with fish fingers an on-request speciality.
Photo 8 : Waterloo Arms customer washing down his tasty fish finger sandwich!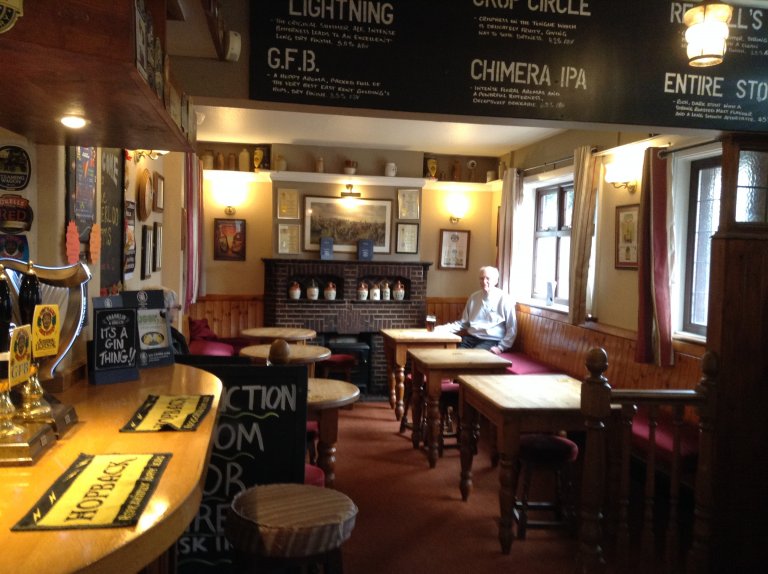 Also in the area is The Freemantle Arms (not to be confused with the more prominent Freemantle Hotel which only stocks the dreaded Doom Bar!). Here is a real gem hidden away on a quiet side street and with a renowned garden/patio area to boot. There is one large open room served by a single bar at the centre where one can find five regularly changing ales. I selected the Fallen Acorn from Hole Hearted Brewery and this time around the score was 3.5. There is very friendly staff and locals with pub games, occasional live music and events a feature.
Finally I will mention The Witch's Brew, a newly opened micro which I stumbled across by accident.There is an outdoor terrace at the front leading two small rooms with a gravity stillage right at the back. Here can be found five constantly changing beers and five ciders as well as a good selection of bottles and cans. I opted for the Dark Revolution Velveteen awarding it a score of 4. There is a witch themed decor; a wide selection of books for browsing plus traditional board games; no music (conversation reigns); and the place is LGBTQ and dog friendly (the pub dog roams freely).
And Then:
TONY GOES .......... OUT OF LOCKDOWN
I would not normally celebrate July 4th (having no love for the USA and believing Trump to be the biggest threat to the planet since Adolf Hitler: indeed I secretly pray to Allah, God and Yahweh that he might be struck down with coronavirus). However,the reopening of pubs on this date was cause for celebration. As much as I looked forward to receiving regular home deliveries from breweries far and wide it was great to be drinking real ale where it should be drunk. First stop was the Royal British Legion club in Pawlett, followed by my all time favourite pub the Crossways Inn in West Huntspill. Since then I have visited other establishments across the county and tentatively ventured further afield- as the above article indicates.
Please get out yourselves to our local pubs-they need all the support we can give them-but please follow the rules as I fear that if people don't there will be a further lockdown which will spell the end for many and bring an end to pub culture as we know and love it.
Tony Gamblin
---
TONY GOES TO .......... CARDIFF
So near (physically) yet so far (culturally), Cardiff makes a great destination for the Somerset beer enthusiast. Given the excellent rail service from all stations in the county there really is no excuse for not heading "over (or under) the water" the short distance to the capital of Wales. Starting right in the heart of the city and within a few hundred yards of Central station you will hit the self-proclaimed "Beer Mile"- not quite in the same league as Bermondsey, but worth the effort nonetheless!
A good starting point would be The City Arms situated on a street corner almost opposite Cardiff Arms Park/Principality Stadium. This is a Brains Brewery pub but of the ten hand pumps only four sported their own beers (for which a Camra discount voucher can be used) while the other six carried a good selection of guests from all over the U.K. There is also a wide array of keg beers and traditional cider. There is one large bar open on three sides with large seating areas on two sides and with small tables and stools in the window side at the front. Additionally there is a small on-street seating area outside. There is plenty of wood paneling and the walls are choc-a-bloc with pump clips, photographs and posters- many local scenes and sports related cartoons. No food is served but there is occasional live music and dogs are welcome. I opted for the Cosmic Dawn by Big Smoke and gave it 3.5 on the Camra What Pub beer scoring scale.
Photo 1 : Exterior of the City Arms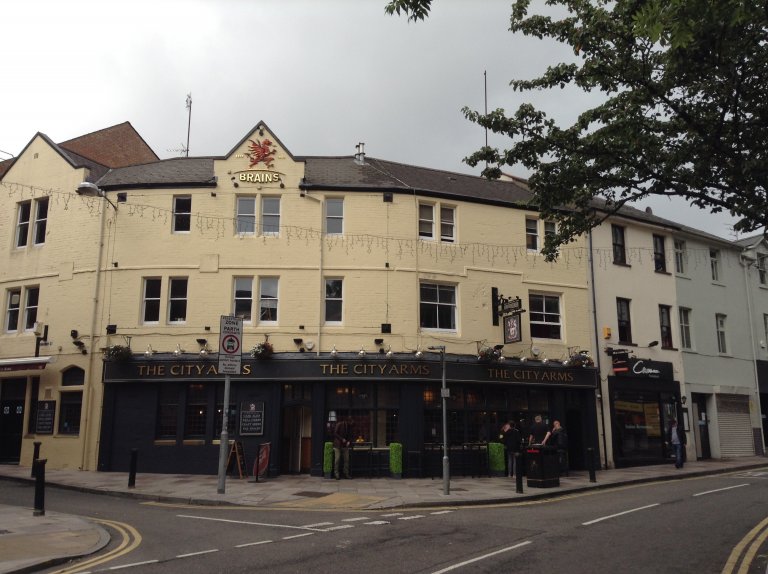 Immediately opposite is Tiny Rebel occupying a noble red brick building which has been given a minimalist 'industrial' look reminiscent of many American craft beer bars (think bare wooden floors, exposed pipe work,high ceilings) and decorated with the iconic Tiny Rebel red and black artwork. Twelve hand pumps are arranged over the long L-shaped bar with both their own beers accompanied by guests, a cider and a perry. Additionally there are fourteen keg taps and a large fridge packed with cans. Everything currently available is helpfully listed on tv screens. My choice was the multi award winning Tiny Rebel Cwtch which I unreservedly scored 4.5.There is plenty of seating at tables with high stools-plus a quieter room at the back with more traditional seating and an upstairs beer hall for busier periods. There is a good food offering of burgers, pizzas wings and nachos.
Photo 2 : Inside the Tiny Rebel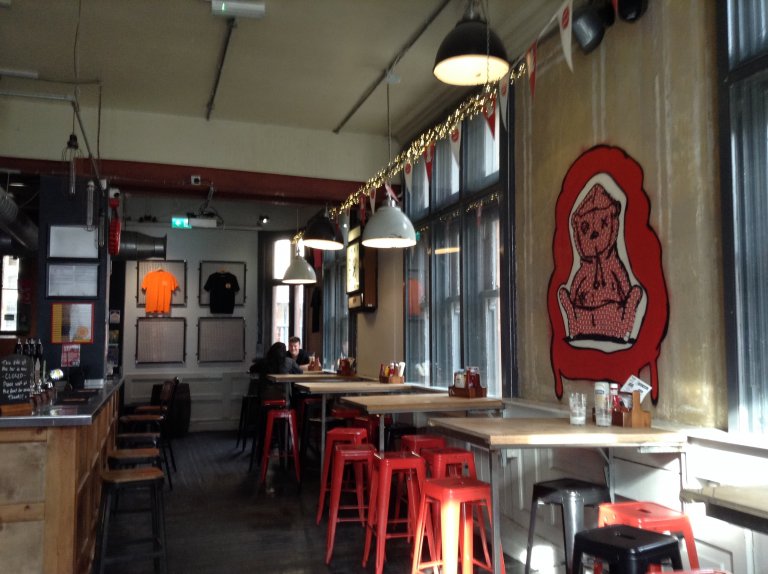 Also on the city centre beer mile (Church Street) is the Head of Steam. It consists of one huge open plan room with a central bar surrounded by seating booths, some designed as railway compartments with complementary lamps and overhead racks with empty beer crates! There is also a very large beer hall upstairs and dogs are also welcome. The nine hand pumps offer six nationally sourced ales (tasting flights available) and three ciders accompanied by a wide range of craft keg, foreign bottles and cans (predominantly Belgian and German)- once again all listed on tv screens with description, abv and price. A Camra discount is offered and good quality food is available. My beer choice here was Cameron's Strongarm which I assigned a score of 3.5.
Just a couple of miles away in the Canton district of the city are three further excellent establishments. First up is the Chapter Arts Centre, an amazing school conversion now serving as a theatre/cinema/workshop/performance space and also hosting a canteen and bar open all day,every day. There is always a buzz about the place with lots of families,students and others of all ages working at their laptops and socialising and it is GLBTQ and dog friendly, the latter welcome on the large partially covered patio. The long bar and cafeteria counters merge into one and there is plenty of canteen style seating in an extensive open plan area. An interesting selection of real ales is supported on the six pumps along with an exciting range of German and Belgian beers-mostly in bottles but a few on draft keg. I tried the Wiper and True Amber on my last visit and scored it 3.5.
Photo 3 : Frontage of the Chapter Arts Centre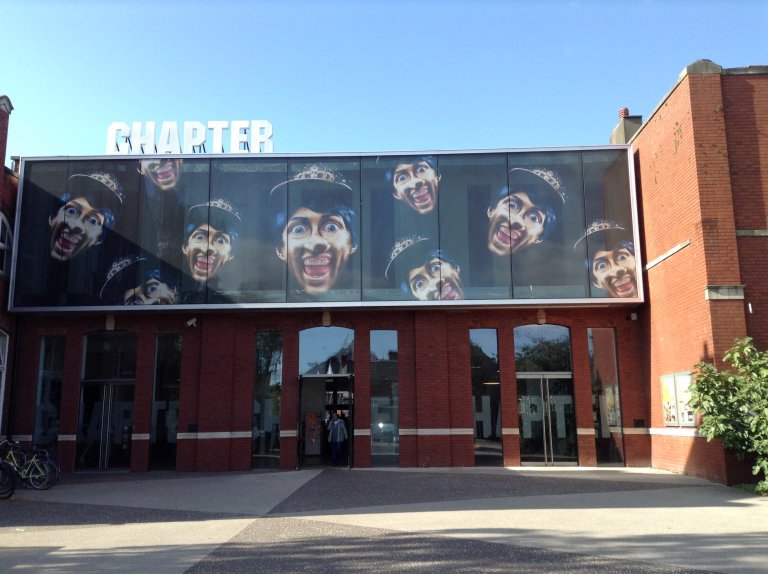 Close by is the St.Canna's Alehouse, a micro pub run by the local baptist minister. Situated on a street corner,there is one main room with bar,stillage,assorted seating (including stools and armchairs) plus barrels serving as tables as well as a couple of tables outside on the quiet neighbourhood street. In addition to a piano there is a collection of books and vinyl and the place prides itself on being GLBTQ and dog-friendly. It has recently been extended out at the back to include another room,beer garden,patio and shed ("The Sanctuary"-available for private parties). There are six real ales to be found on the gravity stillage and a couple of kegs plus three ciders are also available -all Welsh.I selected the Evan Evans Lazy Days, scoring it 3.5. Every Thursday a street food van is invited to set up outside (it was Venezuelan on the day I visited.Except at weekends this place is only open in the evening.
Photo 4 : Inside the St.Canna Ale House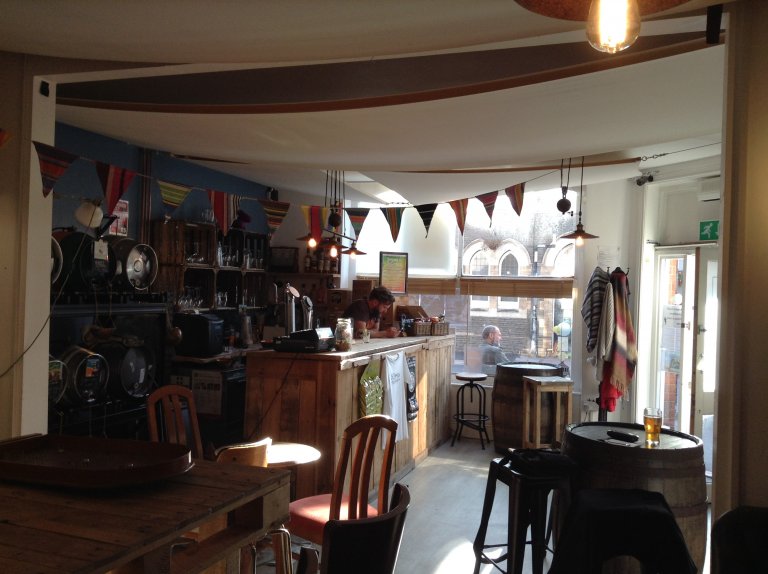 A further stroll brings one to the Lansdowne, a former hotel and established favourite with a strong community emphasis and current local Camra pub of the year (members discount given). Games,toys and books are available; open mic, quiz and board games nights feature regularly; and there is a good range of pub style food. There is one long bar painted a distinctive bright green with the ceiling above decorated with pump clips and dried hops. Long wooden bench seating with cushions and scrubbed tables large and small runs the whole length of the rooms on all three sides of the bar and behind it and recycled 20th century school and chapel chairs feature. There are few decorations (apart from the deservedly awarded Camra certificates) on the white walls which double as projection screens.There is an interesting variety of real ales featured and cider is also available. I went for the Pitchfork East Street Cream-one of my favourites- assigning it a score of 4.
Photo 5 : The bar of the Lansdowne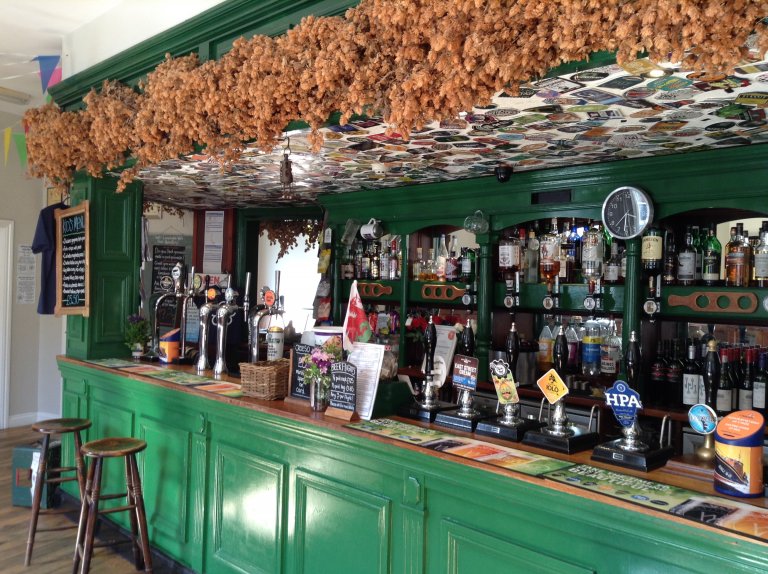 Heading back towards the city centre can be found the Pontcanna on Cathedral Road, with its solid selection of four Welsh ales. I was pleased to find Tiny Rebel Cwtch which I again awarded 4.5! There is one large,comfortable open plan bar with outside seating at the front and a larger,partially covered area at the back with its own (keg only) bar. Good quality food is served all day and accommodation is available. There are tvs (for sports) here but the volume is generally turned down or off.
Photo 6 : Outside the Pontcanna Inn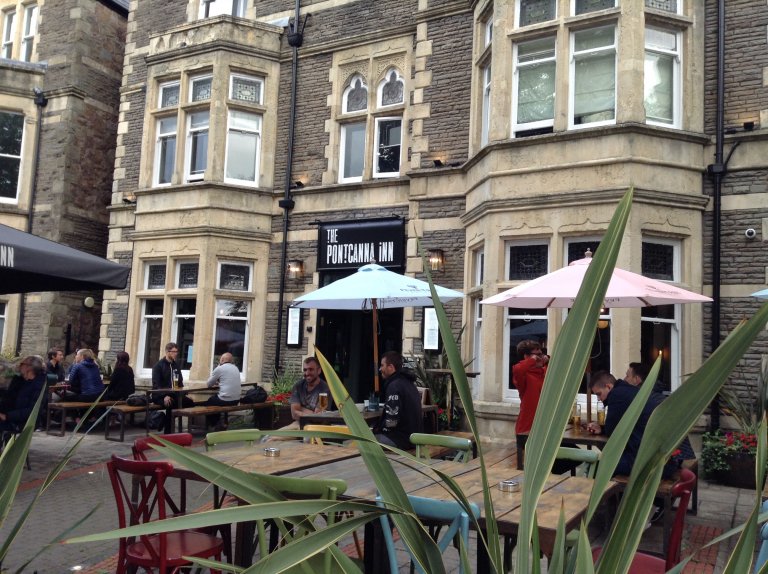 Finally, and also close to Pontcanna Fields is Brewhouse and Kitchen, a brew pub recently established in a pub formerly known as Y Mochyn Du (The Black Pig) : indeed, the beer I sampled was their own Brewhouse and Kitchen Y Mochyn Du which I gave a score of 3.5. There is a very large open plan bar incorporating the brewing kit and plenty of table seating as well as a conservatory and vast outdoor seating area (including beach huts). In addition to a solid food range there are brewery experience days, tasting sessions and tasting paddles.
And Then :
TONY GOES TO .......... LOCKDOWN
The above article was drafted before the world was turned upside down, but not to be deterred I initially bought a few bottles of ale from my local shop until hitting upon the idea of ordering on-line from the breweries. Of course I wished to support some local ones and both Exmoor and Dartmoor came up trumps. I really enjoyed the armchair (virtual) beer festival organised by Pitchfork Ales over the VE Day bank holiday weekend : apart from the splendid Captain Scarlet ale,the talented young musician Senna Weeks (based locally in Weston-super-Mare) will remain in the memory.
I have a particular fondness for Scottish brews and so took the opportunity to order from three of my favourites. All made available mixed cases so I could sample a range of their products alongside those I liked best: Jarl from Fyne Ales, Tarasgeir from the Isle of Skye Brewery and Dark Island from the Orkney Brewery. Remarkably I placed my order with the latter one afternoon and it was with me before 09.00 the next day-shipped overnight from Inverness! My stock of bottles should last me a long time as thankfully like all good Camra members I am now allowed to get back to the pub which is the best place to drink real ale (apart from Camra beer festivals of course).
Keep the Faith, Tony Gamblin
---
TONY GOES TO ..........EDINBURGH
For a long time I had been led to believe that the best thing about Edinburgh was the train to Glasgow, so I decided it was time to swallow my prejudice and pay the city a visit. I was not disappointed: true it was very busy, but with a little bit of advance planning it was possible to avoid the worst of the tourist crowds and I certainly managed to discover some great watering holes as well as doing the usual sightseeing bit. As a point of interest, the local Camra Edinburgh and Southeast Scotland branch magazine is called "Pints of View".
In the heart of the Old Town were several places well worth a visit. In a secluded courtyard off the Royal Mile is the Jolly Judges. It consists of one long, narrow and rather dimly-lit bar with small tables and a mixture of stools, chairs and a long upholstered bench along the wall. A feature is the beamed painted ceiling. There is also seating in the courtyard outside, the only area children are allowed. Food is served at lunchtime after which dogs are welcome. There are four real ale hand pumps and I chose the Idaho 7 from Fyne Ales which I awarded 4 on the Camra National Beer Scoring System. Besides the usual range of keg beers, wines and spirits four ciders are available here and it has been awarded local Camra cider pub of the year.
Photo 1 : Courtyard seating outside the Jolly Judges.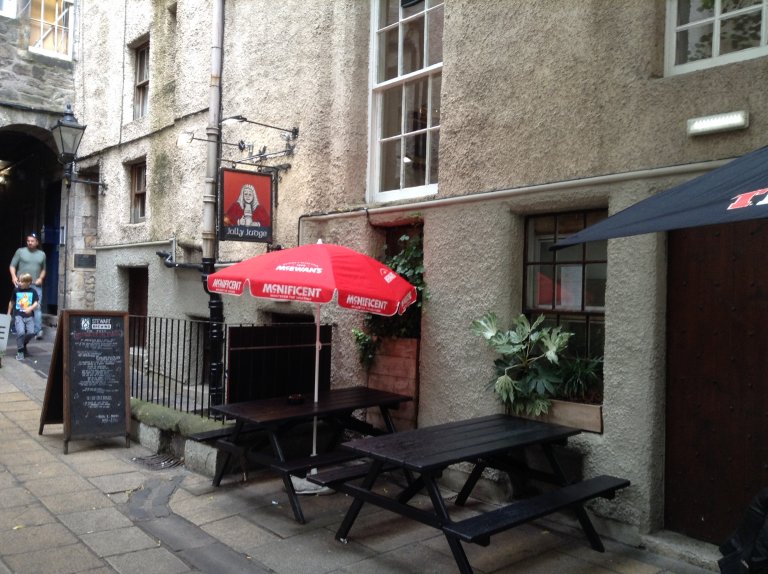 Also in a close off the Royal Mile and halfway down a long flight of steps leading to Waverley station is the Halfway House. It claims to be the smallest pub in Edinburgh but despite this manages to find room for four real ales (mainly from the smaller Scottish breweries) and to serve a basic food menu for most of the day, with a generous Camra discount available. I sampled the Strathaven Old Mortality which I gave a score of 3. The one small room is decorated with railway memorabilia and there are a few small tables outside for when the weather allows. Dogs are made very welcome but children only if the pub is quiet (rare!).
Located on a steep narrow alley (allegedly the inspiration for Diagon Alley in the Harry Potter series) is the Bow Bar. There is just one room: small tables with chairs and upholstered benches, attractive dark woodwork and subdued old-fashioned lights. The bar has a large gantry supporting nearly 400 single malts and international bottled beers and more importantly there are eight hand pumps and a further six keg taps. When I visited they were just starting a two week beer festival with over 50 beers from all parts of the U.K. to be rotated over the available pumps. I tried the Cromarty Happy Chappy which I assigned a score of 3.5. On a practical note, the only food available is lunchtime pies; dogs are very welcome; children are not allowed. This seems to be a common theme in Scotland- apparently the law is very explicit with regard to young people in licensed premises.
Photo 2 : The interior of the Bow Bar.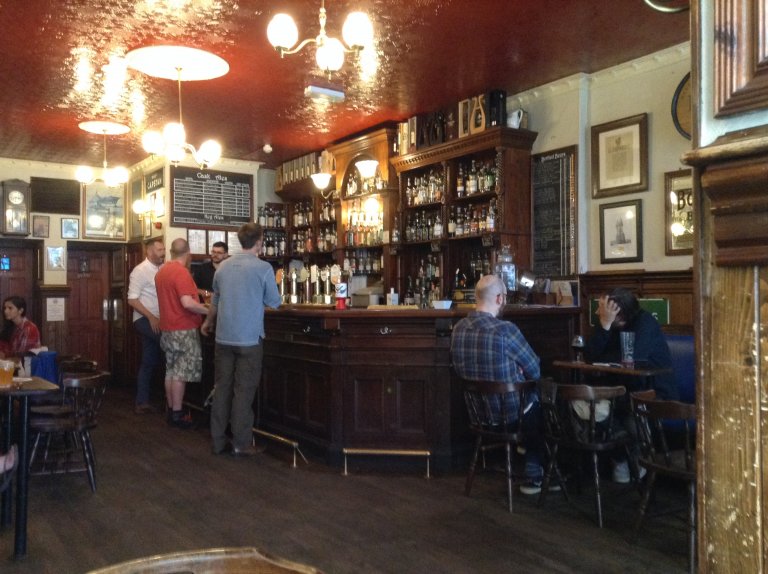 Below the Castle mound can be found the Blue Blazer, built in a curve around a street corner. There is a tiled mosaic centrepiece to the wooden floor, high ceilings and lots of etched glass and antique lamps. Seating consists of stools at the bar, tables set around it and closely packed tables and chairs in a further room at the back. The bar has an attractive wooden gantry with an array of bottles (mostly malts) and the six hand pumps support five real ales from smaller Scottish breweries plus one cider. My choice this time was Sunshine on Keith from the Spey Valley brewery which I scored 3.5. Again-dogs yes, children no.
Photo 3 : The bar of the Blue Blazer.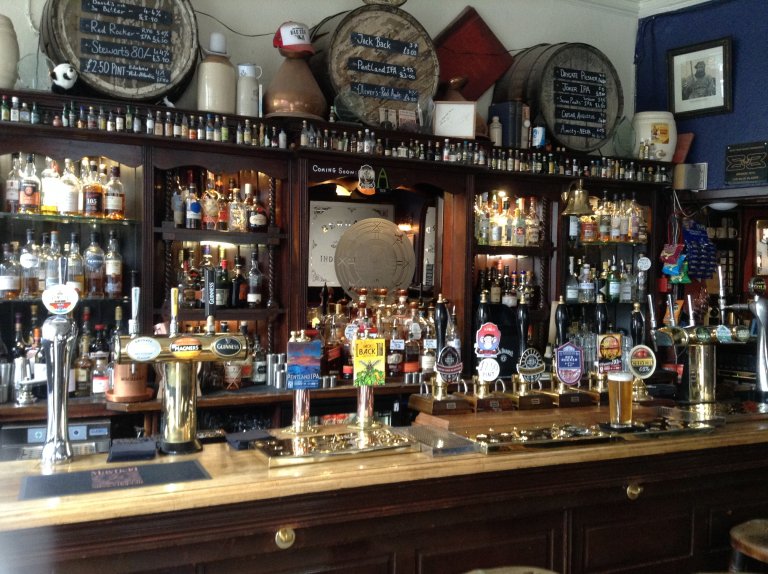 Moving to the New Town a great discovery is The Guildford Arms, one of the city's luxurious late 19th century pubs. With its high decorated ceiling, etched glass windows, fine woodwork and etched mirror one really feels surrounded by Victorian opulence: the cornices,friezes,arches and screens are quite spectacular. There is a central bar surrounded by a large open seating area with a further lounge beyond plus a mezzanine gallery primarily intended for dining. The fare is quite up-market traditional / Scottish-style cuisine. Here dogs and children are segregated: dogs in the bar area only and children in the upstairs restaurant only! The important part is the beer and this does not disappoint. Ten wide ranging real ales are available and the Orkney Dark Island I was served was given a 4. (The Cafe Royal next door is even more elaborate, but I have not included it since only four of the six hand pumps were operational, and these serving the usual suspects -Greene King / Belhaven- at inflated prices).
Hidden in a backstreet corner of the New Town is Kay's Bar. The bar takes up much of one side of the small room with an upholstered bench with small tables plus stools ranged along the other- that's all there's room for! Arranged on a deep shelf above are five large and seven small barrels plus a series of stone jars. There is a large fireplace plus a small room to the rear for a quiet drink. Eight cask ales are on offer plus many other drinks, with malt whisky being a specialism. My choice was Timothy Taylor Landlord which I awarded 3.5. Lunchtime rolls and simple meals are available, managed by having an upstairs kitchen!
Close to the large recreational space known as The Meadows is to be found Bennets Bar with its nationally important interior. Of note is the exceptional stained and etched glass, outstanding tile work and superb woodwork- especially the bar gantry. There is one long bar along the length of the room on one side with bench seating and numerous small round tables along the length of the other, with a scattering of stools high and low. A tiny snug can also be found towards the back. Of the three real ales on offer I selected Jarl from Fyne Ales which I scored 4.5- the highest for this visit. Food is served for most of the day from a limited but very acceptable menu.
Photo 4 : The elaborate interior of Bennets Bar.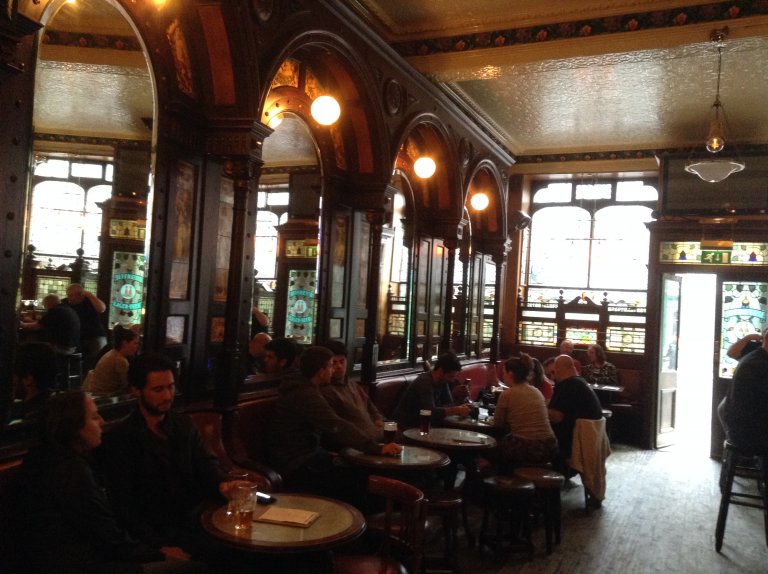 At the other end of The Meadows in the heart of student territory and close to the Commonwealth Pool is the Dagda , just one room located in a tenement terrace. At the back facing the entrance is the bar with a colourful mirrored gantry and four (mostly Scottish) real ales on offer: my selection this time was Kelburn Brewery's Misty Law which I awarded 4. The rest of the space is taken up with seating and tables including a couple of barrels with stools in the middle. There is always a pleasant ambience- with traditional pub games, a weekly quiz and newspapers to hand.
Photo 5 : The frontage of the Dagda Bar.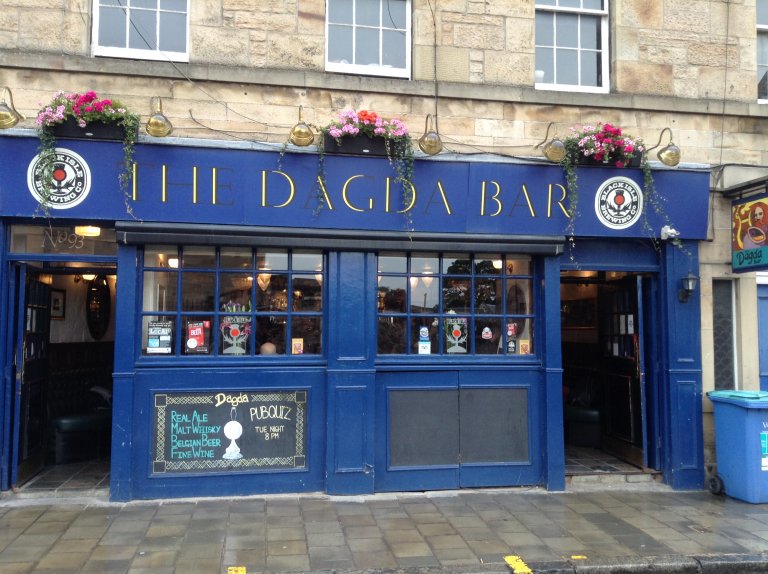 Finally, out of the city in the suburb of Leith can be found the Dreadnought, voted local Camra Pub of the Year. The beers on the four hand pumps are sourced nationally and I chose one from a different Celtic nation- Tiny Rebel's Stay Puft, brewed across the water in Newport and again came up with a score of 4. A good selection of bottled Belgian beers is available but the only food offering is pizzas which are ordered in. There is just one large high-ceilinged room with tables plus sofas, upholstered benches and chairs along with a small area of on-street seating. Given its name the pub is decorated in a nautical theme and besides board games there are quiz nights and occasional live music. If visiting- and I have decided Edinburgh is a city I would like to return to- note that from Monday to Thursday this pub only opens in the evening.
Photo 6 : Landlord, daughter and their dog at the Dreadnought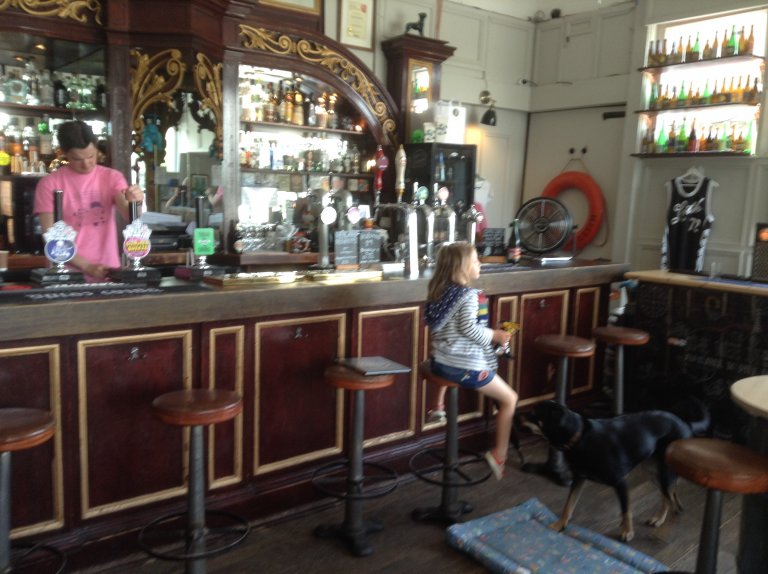 ---
And For The Hop Heads :
TONY GOES TO ..........REYKJAVIK
I couldn't resist Easyjet's great value fares from Bristol to Iceland - if you book early enough! It's an amazing country: glaciers, waterfalls, geysers, hot springs- not to mention the chance of seeing the northern lights! Reykjavik is a pretty cool city too and so compact that walking everywhere is an easy option. It's expensive, but with some careful pre-planning (get the Appy Hour app) it can be made affordable. It's hard to believe that prohibition did not end until 1989 but beer is now the country's most popular beverage and brewing culture is booming with a significant rise in craft beer and gastropubs.
I particularly enjoyed the following:
1. Bryggjan Brugghus ,the city's first micro-brewery (tours and tastings available) with a stylish open-plan, 12 taps with their own beers and a good food offering.
2. Kaldi , a cool hangout with a generous happy hour and beers from their brewery of the same name in the north of the country.
3. Islenski Barinn (Icelandic Bar) with a big selection of the country's brews and combining cutting edge with cultural traditions- especially food (sheep's head, fermented shark, whale meat and lundi or puffin!).
4. Saeta Svinio is a new kid on the block and a gastropub with attitude. It is ambitious but unpretentious and offers a happy hour and a range of beer flights.
5. Aegir brugghus is another micro brewery in an industrial estate near the harbour. The tap room is a large open-plan area with big tables and tasting paddles are available from the 10 taps at the bar. Here I tasted the best beer of my trip - Black as my Soul .
Photo 7 : Food pairing at Bryggjan Brugghus.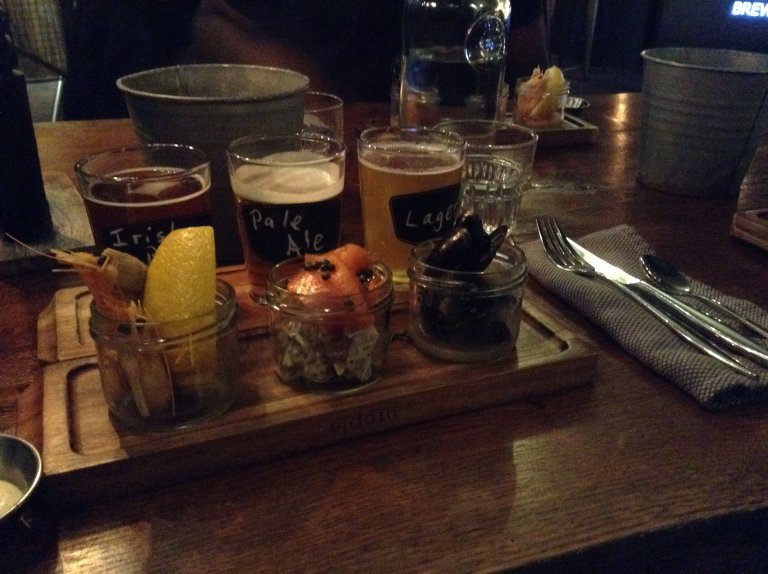 Photo 8 : Outside Saeta Svinio.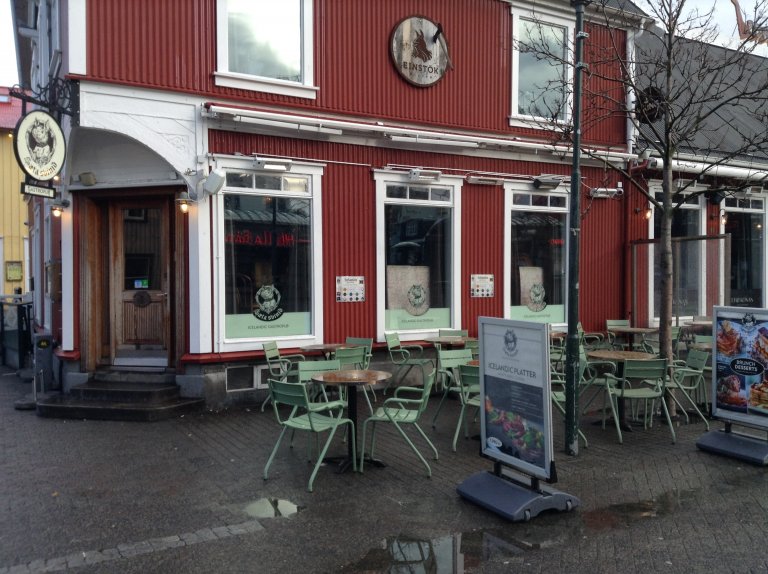 If you ever manage to make it to Reykjavik I can also recommend the following: Icelandic Craft Bar (bohemian); Micro Bar (american style minimalist); Skuli (scandinavian chic); Session Craft Bar (dependable); RKV Brewing Co (micro with gleaming kit); Vitabar (locals' pub); Ostofa (dog and gay friendly); Vedurbarinn (youthful and studenty); Bravo (pub style hideaway); and Bastard (brewpub which lives up to itsname by giving the nearby Brewdog outlet a run for its money!)
Cheers, Tony Gamblin
---
Hang Fire Southern Kitchen in Barry Island
Recently my wife and I were enjoying a drink in the Washford Inn when I overheard the landlord extolling the virtues of an establishment in Barry.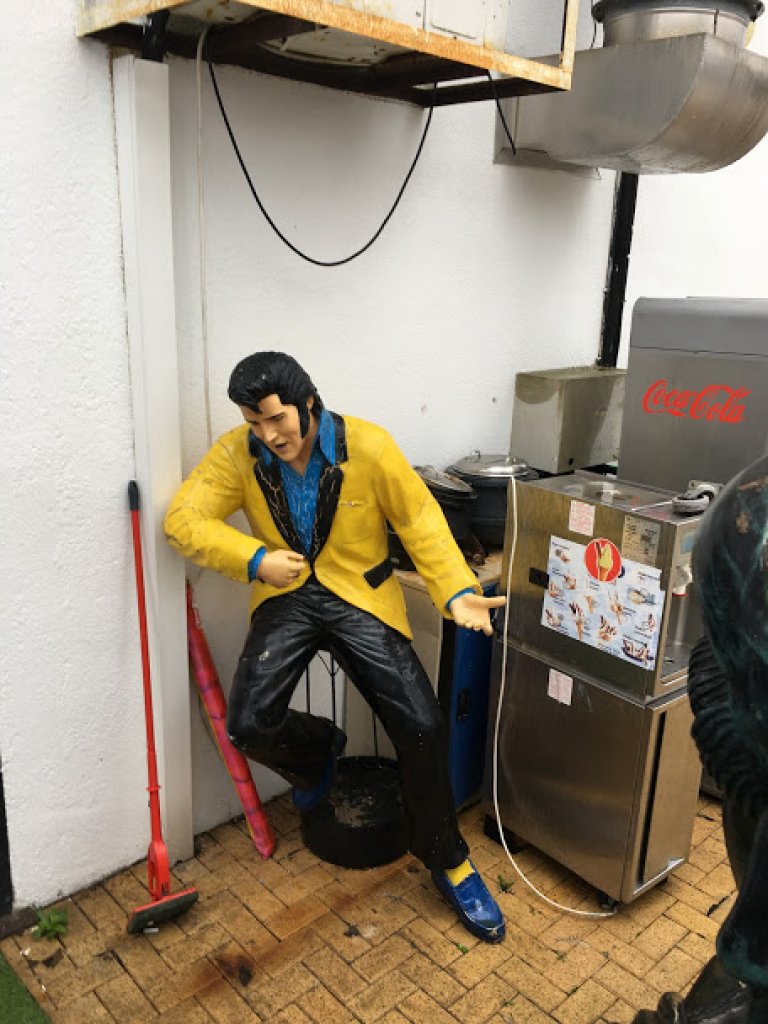 Barry Island, where Elvis is alive and well and working as a cleaner on the beach front! This was a coincidence as we were planning a visit to Barry Island on an away-day by train from Abergavenny on Saturday 15th February 2020.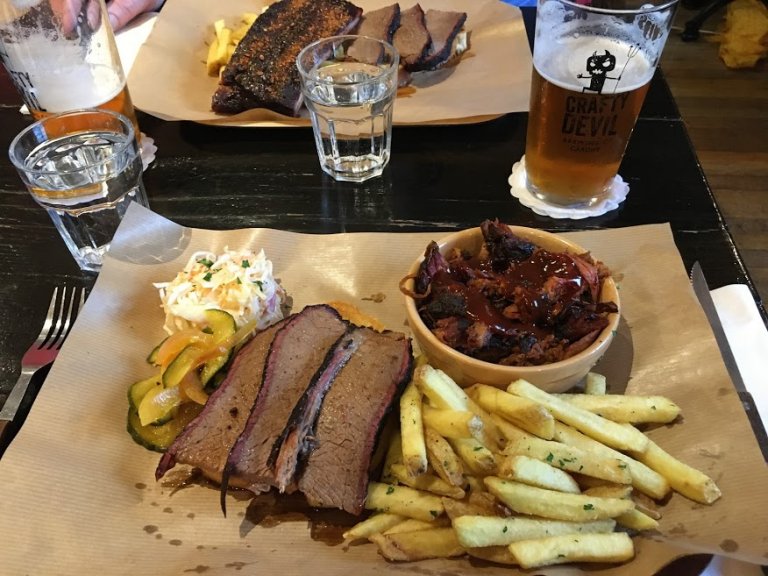 What started as a Southern Style BBQ street food stall in Cardiff, 5 years ago, run by Samantha Evans and Shauna Guinn, Hang Fire Southern Kitchen is the result of not giving up on your dream to do your own thing. Their vision was to run a small restaurant that relies solely on fresh, ethical produce - far away from the congested chain-led culinary landscape - and to create food with soul and passion. The restaurant is situated in a 215 year-old Pump House on Barry Waterfront in the Vale of Glamorgan and it offered a welcome refuge from Storm Dennis which was raging outside.
Hang Fire offers Louisiana soul food classics, award-winning US barbecue and wood fired steaks on Wales' first custom built Argentinian Parrilla grill. Not forgetting authentic southern appetisers and desserts - all washed down with our own brewed beers and NOLA-inspired cocktails (NOLA is apparently a London Bethnal Green-based Cocktail Bar and not an acronym).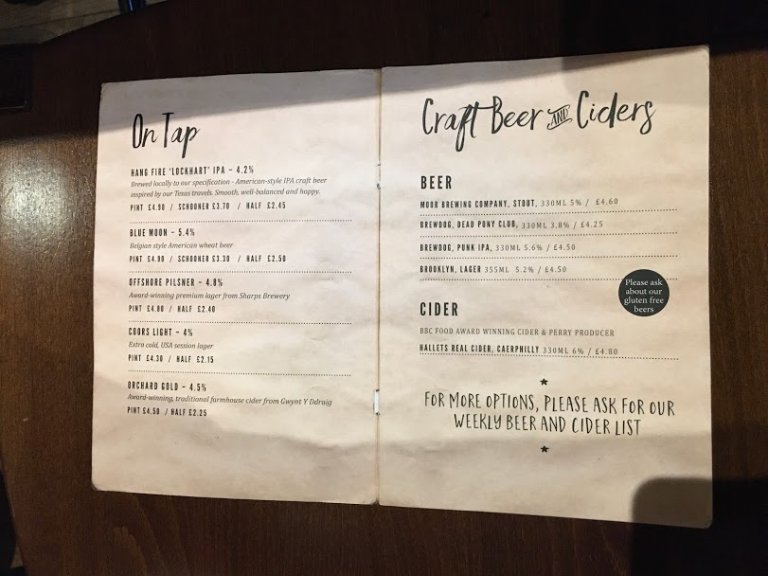 They offer a delightful draft ale in the form of Hang Fire "Lockhart" IPA. This is brewed locally to their own specification and is an American-style IPA based on their travels in Texas. It is 4.2% ABV, smooth, well-balanced and hoppy. I also enjoyed a pint of Blue Moon, a Belgian-style American wheat beer at 5.4% ABV. In bottles they have Moor Brewing Company Stout and Brewdog Dead Pony Club and Punk IPA.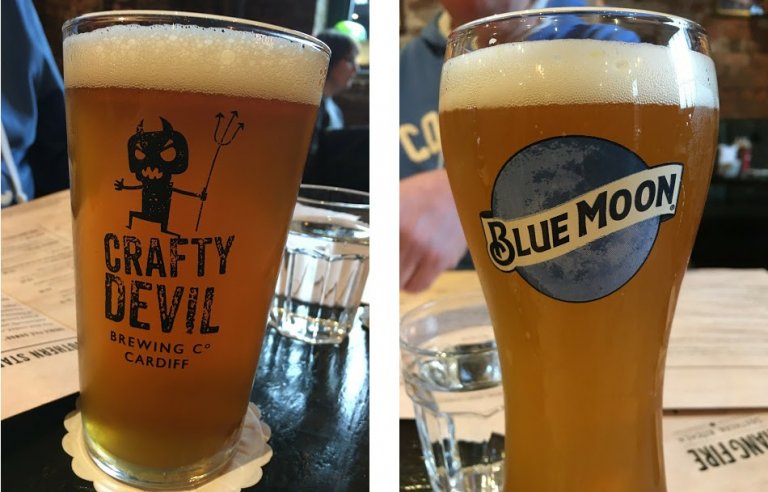 They have featured on television on a recent Saturday Kitchen and their own BBC TV Show 'Sam and Shauna's Big Cookout' which is available on BBC iPlayer.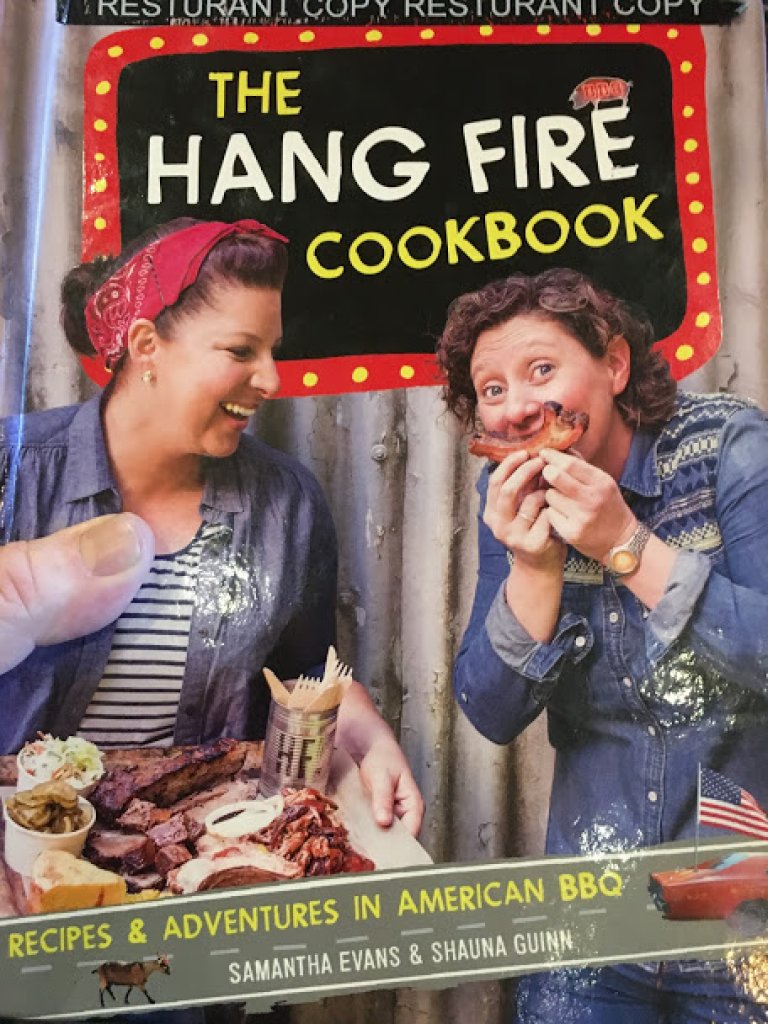 As an aside, we were very impressed by the hand wash in the toilets at Hang Fire. Using natural, essential oils of Lavender + Patchouli + Rose Geranium, your hands will feel clean and your soul will be totally replenished. https://goodwash.co.uk/product/hand-wash/.
Steve Hawkins, Webmaster and Apple Rep for Somerset Branch CAMRA. February 2020.
---
On the hunt for real ale in Gibraltar
Gibraltar is a British Overseas Territory located at the southern tip of the Iberian Peninsula. It has an area of 6.7 km2 (2.6 sq mi) and is bordered to the north by Spain. The landscape is dominated by the Rock of Gibraltar at the foot of which is a densely populated town area, home to over 30,000 people, primarily Gibraltarians. It shares a maritime border with Morocco.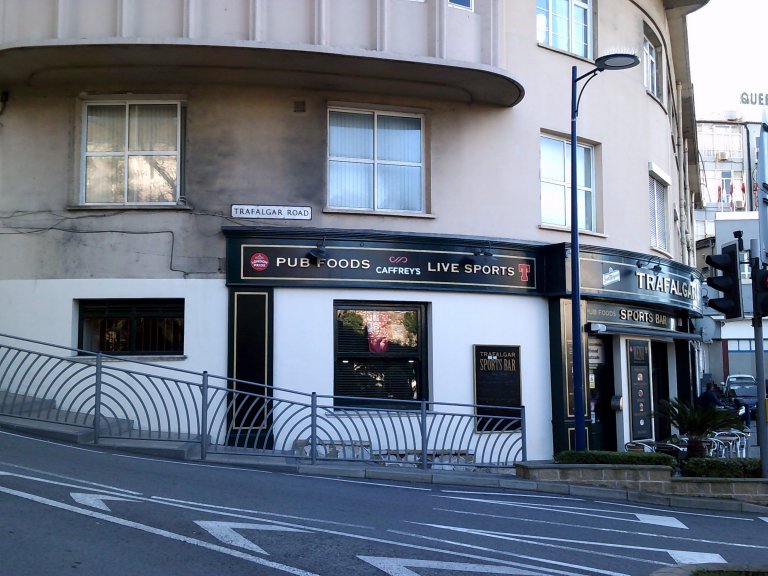 In 1704, Anglo-Dutch forces captured Gibraltar from Spain during the War of the Spanish Succession on behalf of the Habsburg claim to the Spanish throne. The territory was ceded to Great Britain in perpetuity under the Treaty of Utrecht in 1713. During World War II it was an important base for the Royal Navy as it controlled the entrance and exit to the Mediterranean Sea, which is only 8 miles (13 km) wide at this naval choke point. It remains strategically important, with half the world's seaborne trade passing through the strait. Today Gibraltar's economy is based largely on tourism, online gambling, financial services and cargo ship refuelling. See http://www.visitgibraltar.gi.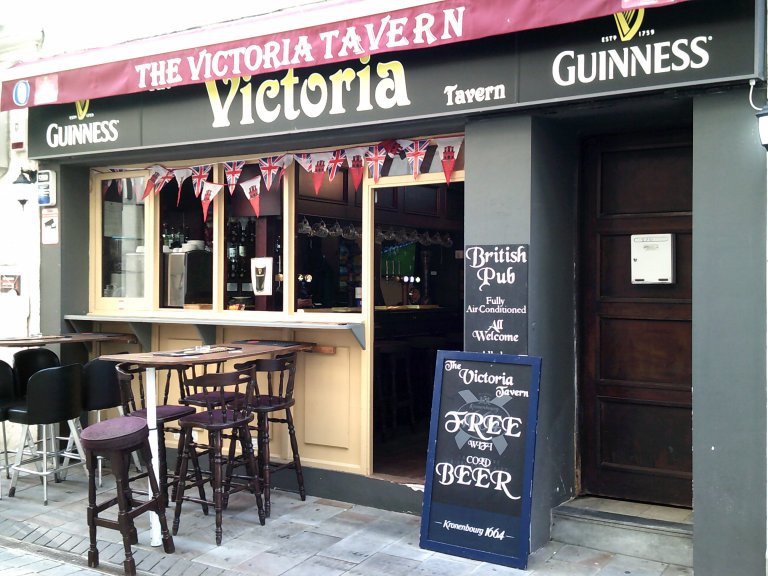 We went there at the end of November 2018, staying in a superb AirBnB apartment overlooking the harbour and the permanently-moored Sunborn superyacht and casino. There are quite a few pubs in Gibraltar, all with very robust old British names such as The Lord Nelson, The Trafalgar, The Angry Friar, Gibraltar Arms, The Piccadilly, The Rock Bastion and The Skull. Traditionally named bars include The Pig & Whistle and The Red Lion. The Horseshoe in the main street is affectionately known as "The donkey's flip-flop" by locals. The Star Tavern (Gibraltar's oldest bar) dates back several hundred years but is more of a trendy wine bar. There is also the ubiquitous Irish pub, O'Reillys in the Ocean Village.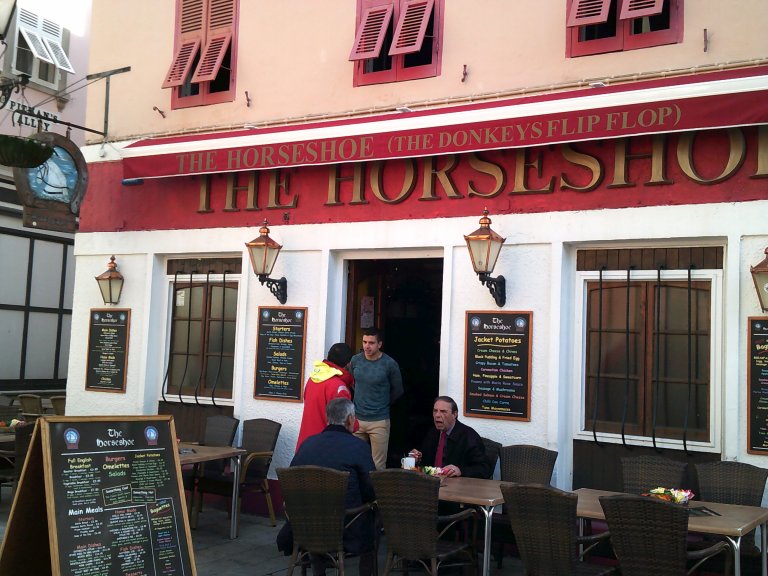 All of these pubs seemed reminiscent of British pubs in the 1970 and most offered John Smith's, Strongbow, Carling, Fosters, Kronenbourg, Stella Artois or Guinness. O'Reillys had draft Old Speckled Hen and some had bottled Fullers ESB. One armed bandits or fruit machines are popular pub facilities. Many are Sports Bars and show sporting events from the UK on big screens.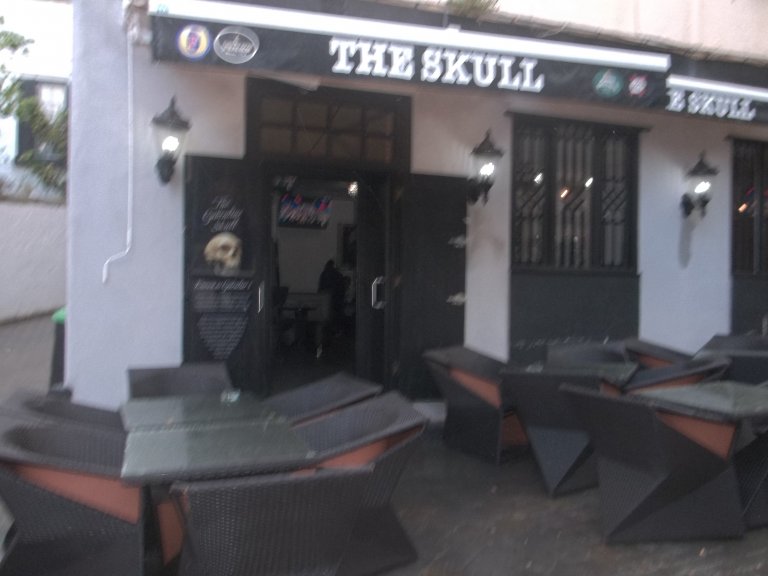 An internet search revealed that the Olde Rock Brewery is due to re-open in 2019 with the promise that "Just over 200 years after producing the beer that won the Battle of Trafalgar, the Olde Rock Brewery is re-opening on the historic Rock of Gibraltar." They go on to claim that by using rock conditioned water filtered through this ancient Pillar of Hercules at the entrance to the Mediterranean our award winning brewers are reviving the historic beers and ales which have for centuries made this rock worth fighting for.
I was excited to see that there was a Brew Pub called Gib.Gun on Ocean Village Promenade. Sadly this had closed down. We did see some bottled Bushy's Gibraltar Craft-brewed with Gibraltar grown hops Barbary Beer (4.4% ABV), but the shop was closed so I was unable to make a purchase. Thus our lovely holiday in Gibraltar was real ale free.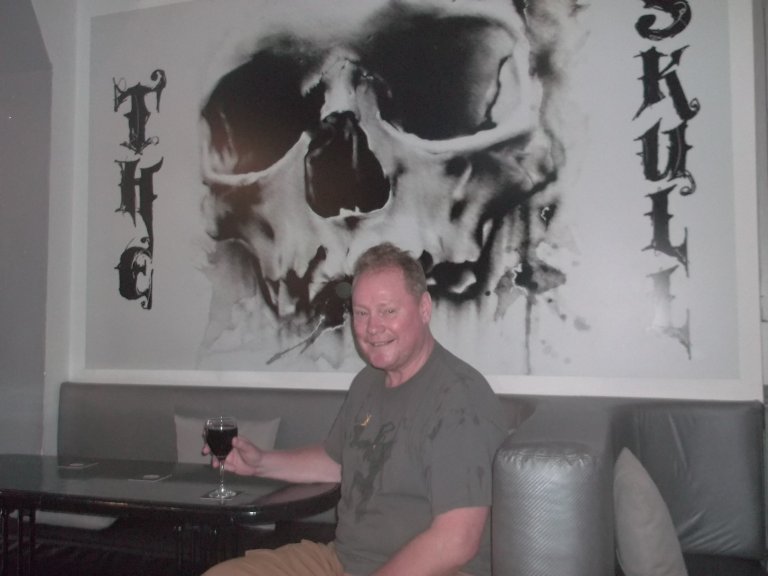 Stephen Hawkins
December 2018
---