Branch News
Will you join us for a pint in our new virtual pub - the Red (On)Lion?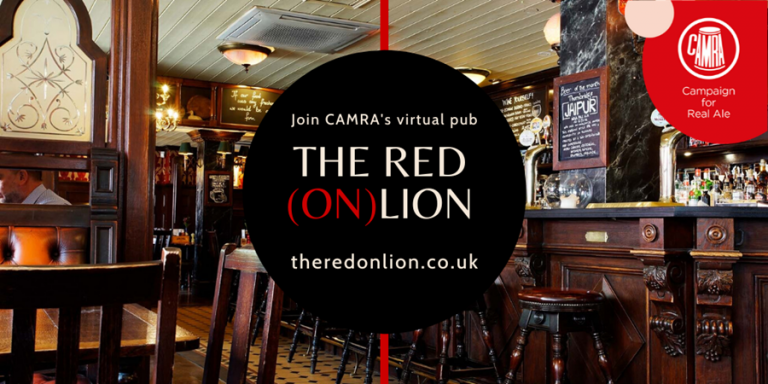 As dedicated beer lovers and pub-goers, it's tough not to be able to visit our favourite locals. That's why CAMRA has created a new online pub which is now open - the Red (On)Lion.
Visit the Red (On)Lion at https://theredonlion.co.uk/.
The virtual pub is a video chat platform that allows you to join our public bar, where everyone can join the conversation, or you can reserve your own private table, share drinks and chat with friends and family.
And just like a real pub we're putting on a range of events - whether its pub quizzes, live music or tutored beer tastings, they'll all be on offer at the Red (On)Lion to help us through the next few weeks as we all stay at home. Check out the events that are already planned - or add and advertise online events of your own here: https://theredonlion.co.uk/events.
And remember - if you're looking for something to drink, our #PullingTogether campaign can help you support local pubs and brewers by finding initiatives such as takeaway and delivery services near you. Simply visit https://camra.org.uk/pullingtogether/
While nothing can replace the community created by a real local pub, we hope that the Red (On)Lion will be a home where the nation's beer and cider drinkers can come together for a chat, a drink, and to find all the virtual events taking place online with one click of a button. I look forward to joining you for a pint in the Red (On)Lion soon.
Click this link to visit the virtual pub! https://theredonlion.co.uk/.
Cheers, Nik Antona, CAMRA National Chairman.
---
Election of South West Regional Director
Saturday 13th June 2020 should have been the date of our AGM and South West regional meeting. In the event the only regional business conducted was election of regional director. The result, in the words of Ian Packham (election administrator), is as follows:
"Firstly thank you to all of the branches and sub-branches within the South West Region for casting a vote in the Regional Director Election. I can also confirm that, in line with the requirements of the election, all branch votes were submitted by the branch / sub-branch chairman and confirmed by another committee member and could be formally logged.
The result is that Peter Bridle was duly elected to serve as the Regional Director for the South West Region of CAMRA and, in line with current common practice for a new RD, it is proposed that he serves for a period of one year initially.
Congratulations go to Peter Bridle for his success along with many thanks to Gareth MacDonald for the work he has done for the region over his seven years as Regional Director".
---
New content for beer lovers to Learn & Discover
CAMRA's online Learn & Discover Zone will be home to new content from beer writers, educators and experts throughout June and July. Each week there will be new guides, articles, videos and podcasts exploring everything there is to know about beer, cider, perry and pubs.
https://camra.org.uk/press_release/new-content-for-beer-lovers-to-learn-discover/.
CAMRA has been working with leading drinks writers, experts and educators to bring you member exclusive content to the Learn and Discover platform. Each week there will be new guides, articles, videos and podcasts exploring everything there is to know about beer, cider, perry and pubs. Let your curiosity guide your own learning journey across three tiers of learning: 'Basics' for beginners', 'Learn More' for enthusiasts' and 'Discover' for connoisseurs.
Coming up in June and July 2020
We start a new 4 part audio guide by Emma Inch exploring the four main ingredients of beer with an exploration of hops.
A video guide to herbal beers and foraging for brewing ingredients by Andy Hamilton.
A "beginners guide to tasting cider" and a cider enthusiasts guide to cider terminology from James Finch - a.k.a. The Cider Critic.
An in-depth history of the IPA by Chair of The British Guild of Beer Writers, Pete Brown.
​The Ciderologist a.k.a Gabe Cook will be exploring all things cider and perry.
The first installment of a dictionary of beer by Mark Dredge.
---
Coronavirus COVID19 Carnage
Our chairman Barrie Childs did a radio interview on BBC Somerset's Saturday Breakfast Show on Saturday 21st March 2020. Listen to it here https://www.bbc.co.uk/programmes/p085rb2t. Interview starts at 1:26:30
The following events are now CANCELLED:
21st March Crossways Inn social gathering
30th March Committee meeting
2nd April Talk to private group at the Plough
3rd April Pub Trail launch at Etsome Arms
3rd & 4th April Members' Weekend & National AGM, York
3rd April to 31st May Pub Trail
5th April Award presentations to Pebbles & Esplanade Club
6th April Branch meeting, New Inn, Wedmore
19th April Social visit to Portsmouth Arms
11th May Branch meeting, Bar 5, Crewkerne
16th May Weston-super-Mare crawl
1st June Committee meeting
5th to 7th June Real Ale & Cider Festival at Minehead
13th June Branch AGM at Wyvern Club
13th June Regional Meeting at Wyvern Club
---
A new beer, cider and perry delivery app - helping you buy local brews!
We know this is a difficult time for beer and pub lovers and we are committed to supporting you and the industry through this crisis. As part of our Pulling Together initiative (our response to COVID 19) we have created Brew2You - a new app that allows you to order local beer, cider and perry deliveries and takeaway. https://camra.cmail20.com/t/j-l-qjktig-jhiddhjthi-y/. What Makes Brew2You Different? Explore the world of beer, cider and perry in a completely new way It's simple to search for beer, cider or perry in your area Check what's available right now Seek out new beer or cider to satisfy your taste buds Discover new local breweries or pubs Choose collection or delivery - it's up to you! Your next brew could be a tap away, try it - what have you got to lose?
Brew2You is ready to take your orders!
Ordering beer, cider or perry directly to your doorstep couldn't be simpler. Just download the app, search for your favourite drink within your local area and order it to your door with just a click of a button. https://brew2you.co.uk/. We have contacted pubs, clubs, breweries and cider and perry producers, they are currently setting up shop to ensure there is good coverage for our members. New partners are signing up every day, so keep checking back for your preferred supplier!
If you can't find your favourite local pub, club, brewery or cider producer on Brew2You, why not give them a call and ask them to sign up as a partner?
The longer the lockdown lasts the harder hit our pubs and breweries will be and the more we risk many closing their doors for good. We therefore urge beer and cider lovers to shop local and support the trade using Brew2You so that we still have pubs and breweries at the other end of the crisis.
Thank you for your support, Nik Antona, CAMRA National Chairman.
---
Washford Beer Festival - Presentation of Awards
Barrie Childs (Chairman, Somerset CAMRA) & Mick Cleveland (Festival Organiser) presenting certificate for Beer of the Festival to Graham Dunbavan from 3D Beer of West Huish.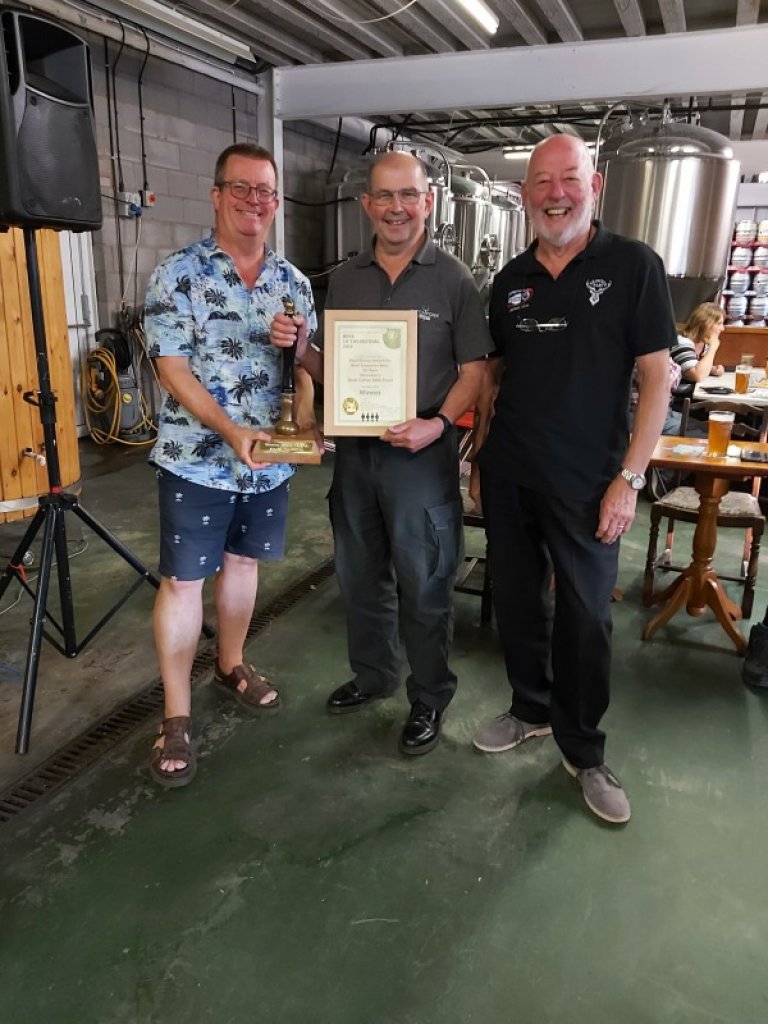 During Somerset CAMRA's Summer Social, held at Quantock Brewery's taproom on Monday 12th August 2019 evening, certificates were presented to the winning brewers and cider producer, as judged by participants of the WSR/CAMRA Real Ale & Cider Festival held at S&DRT Washford during West Somerset Railway's 2019 Diesel Gala. Cider/Perry of the Festival went to Neil & Gemma Combe from Torre Cider Farm of Washford for their Pear Ambulance Perry, and Best Somerset-brewed Beer of the Festival to Graham Dunbavan from 3D Beer of West Huish. Also see http://www.wsr.org.uk.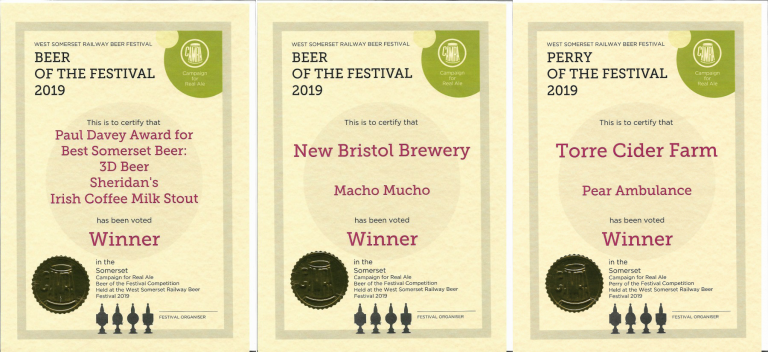 ---
Radio Radio
Our chairman, Barrie Childs, did a live radio interview on Friday 16th August 2019 morning between 7:30 am and 8:00 am on the Claire Carter Breakfast Show on BBC Somerset Radio. They talked about various aspects of CAMRA and tasted some beers.
---
Coming events for your diary
Dates of meetings and social events can be found on the Branch Diary page: Branch Diary.