Branch News
Re: Please support pubs and help cut beer duty
Thank you for your email about the latest phase of the Long Live The Local campaign on pubs and beer duty.
I take the points you make and understand concerns the being expressed by landlords and customers alike about the impact that Covid has had on trade. I can assure you that I have been monitoring the situation closely from both a constituency perspective and because, as constituents who have written to me before about our pubs and duty on alcohol already know, I take a close interest in this issue in the Commons as Chair of the All Party Group on Cider.
As you rightly say, pubs are at the heart of many of our villages, towns and cities across the country and provide an important hub for local communities to gather. Pubs have been faced with debilitating restrictions because of Covid for a long time and I appreciate that the hopes of a much improved trade from the annual Christmas "bounce" did not happen because of the surge in cases caused by the Omicron variant of Covid pre-Christmas.
Like everyone, I welcomed the temporary cut to VAT from 20 per cent to 5 per cent for all food and non-alcoholic drinks, which was extended until the end of September 2021 and has now been followed by a 12.5 per cent rate until 31 March 2022. I have already spoken to colleagues at the Treasury about the possibility of a permanent reduction in the rate of VAT on all food and drink sold in pubs. They have made it clear that the temporary reduction to VAT was intended as a measure to support the industry during the coronavirus pandemic. To extend this reduction indefinitely would limit funding long-term for the vital public services, but the Treasury keep all matters relating to VAT and taxation under rolling review and I will continue to ensure that Treasury Ministers are aware of my constituents support for a permanent reduction in VAT on food and drink in pubs.
With regard to duty on beer and alcohol duty reforms, as you know, the Autumn Budget 2021 confirmed that duty rates on beer, cider, wine and spirits will be frozen for another year, a move which will save consumers £3 billion over the next five years, and provide further support to the hospitality industry and its suppliers as they recover from the pandemic. Duty rates on draught beer and cider will be cut by 5 per cent, taking 3p off a pint and further supporting pubs.
I also welcome the announcement in the Autumn Budget 2021 that, following a review, the alcohol duty regime is to undergo a major simplification. The old system was outdated system that set rates based on historical anomalies, and a new regime will be fairer to both consumers and producers, and promote product innovation in response to evolving consumer tastes.
This radical simplification of the duty system will reduce the number of main rates from 15 to 6, and tax products in proportion to their alcohol content. All tax categories, such as beer and wine, will be moved to a standardised set of bands, with rates for products between 1.2-3.4 per cent alcohol by volume (ABV), 3.5-8.4 per cent ABV, 8.5-22 per cent ABV, and above 22 per cent ABV. Above 8.5 per cent ABV, all products across all categories will pay the same rate of duty if they have the same proportion of alcohol content. Registration and payment will also be simplified, and the practice where individual products have different administrative rules will end.
The new progressive manner in which alcohol is taxed will ensure higher strength products incur proportionately more duty, and these rates will be the same across all product categories. This change will address the problem of harmful high-strength products being sold too cheaply, and the new rates for low strength drinks below 3.5 per cent ABV will encourage manufacturers to develop new products at lower ABVs, giving consumers greater choice and greater options to drink responsibly.
I also welcome the introduction of a new small producer relief which will build on the previous success of the Small Brewers Relief, which will benefit cidermakers and other producers of lower ABV drinks. This will allow small producers to diversify their product range to other products below 8.5 per cent ABV while still benefitting from reduced rates and I look forward to seeing what products they come up with.
I have noted your support for lower business rates for pubs. Throughout the pandemic pubs have been provided with significant financial support with grants and business rates holidays. In response to the rise of the Omicron variant, the Government provided businesses in the hospitality and leisure sectors with one-off grants of up to £6,000 per premises. Further support through the Additional Restrictions Grant was made available for businesses most in need, which local authorities have discretion to allocate within their areas. The Statutory Sick Pay Rebate Scheme was also reintroduced.
Pubs have also benefitted from a range of grants such as the one-off Restart Grants which were made available to help businesses reopen safely, worth up to £18,000 for hospitality, leisure, accommodation, personal care and gym businesses. The reduced VAT rate of 12.5 per cent and option to defer some VAT payments until March 2022 are continuing to support businesses, as is the UK-wide Recovery Loan Scheme which has been extended until June 2022.
Expanding on the business rates holiday introduced in response the pandemic and the 66 per cent relief which remains in place for 2021-22, a new relief will be introduced for eligible retail, hospitality and leisure properties. This will see over 90 per cent of retail, hospitality and leisure businesses receive at least 50 per cent off their business rates bills in 2022-23.
Evidence continues to be collected on the impact of the pandemic on the hospitality sector and I am confident that the Government's ongoing support will help pubs, which are the lifeblood of our communities, to recover and build back better. In the meantime, I can assure you that I will continue to ensure that Treasury and BEIS Ministers are aware of my constituents ongoing concerns about the future of our pubs, business rates and alcohol duty reforms over the coming months.
Many thanks for taking the trouble to write about the latest Long Live The Local campaign. Yours sincerely, Ian Liddell-Grainger
Ian Liddell-Grainger Member of Parliament for Bridgwater and West Somerset Email: ku.tnemailrap@glnai Tel: 01278 458383 Constituency Office: 16, Northgate, Bridgwater, Somerset, TA6 3EU
---
Somerset CAMRA articles in "Pints West"
Phil Emond recently came across a copy Winter Edition of Bristol and District Magazine "Pints West" and Somerset Branch has had three items mentioned.
Page 17 shows The Luttrell Arms Dunster in an article on Heritage Pubs.
Page 29 shows the Gold Certificate presentation to West Croft Cider at Brent Knoll.
Page 32 Graham Dunbaven who has been a member of our branch for many, many years has his Brewery, (in Bristol & District Branch) mentioned under Epic Beers, Pitchfork Ales and 3D (formally RCH).
You can find the edition online at http://www.camrabristol.org.uk/pintswest.html.
We thank them for our mentions in "Pints West".
---
Obituary for Dr Geoff Brandwood
It was with great sadness that I have just read in the latest edition of London Drinker Feb/March edition of the sudden unexpected death of Dr Geoff Brandwood.
Geoff became involved in the Pub Heritage group in 1998 being employed by CAMRA as a case worker for a two year project partly funded by English Heritage to carry out detailed review of our National Inventory and Pub Interiors.
He was an architectural historian with a great love for pubs and he made as is said a roaring success in this role. Putting his great writing skills to good use in publishing two editions of Britons Best Heritage Pubs plus regional pub guides which he either led or helped to produce 10 in all.
I meet Geoff on many occasions including a day in our branch looking for entries in the SW Edition. I have always been interested in Historic Pubs, but Geoff certainly gave me a greater insight to them on a national basis. He was also a leading historian on Victorian and Edwardian Church architecture.
He was a great guy on meeting he was always very kind and friendly and we had many a good chat, normally at CAMRA Conferences.
He will be greatly missed not only by the rest of the hard working members of this group but also by the many that knew him for his abilities and also his great and friendly charm.
Phil Emond.
---
Will you join us for a pint in our new virtual pub - the Red (On)Lion?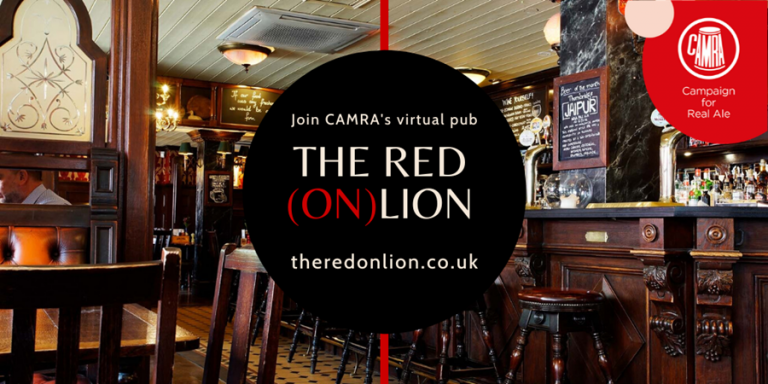 As dedicated beer lovers and pub-goers, it's tough not to be able to visit our favourite locals. That's why CAMRA has created a new online pub which is now open - the Red (On)Lion.
Visit the Red (On)Lion at https://theredonlion.co.uk/.
The virtual pub is a video chat platform that allows you to join our public bar, where everyone can join the conversation, or you can reserve your own private table, share drinks and chat with friends and family.
And just like a real pub we're putting on a range of events - whether its pub quizzes, live music or tutored beer tastings, they'll all be on offer at the Red (On)Lion to help us through the next few weeks as we all stay at home. Check out the events that are already planned - or add and advertise online events of your own here: https://theredonlion.co.uk/events.
And remember - if you're looking for something to drink, our #PullingTogether campaign can help you support local pubs and brewers by finding initiatives such as takeaway and delivery services near you. Simply visit https://camra.org.uk/pullingtogether/
While nothing can replace the community created by a real local pub, we hope that the Red (On)Lion will be a home where the nation's beer and cider drinkers can come together for a chat, a drink, and to find all the virtual events taking place online with one click of a button. I look forward to joining you for a pint in the Red (On)Lion soon.
Click this link to visit the virtual pub! https://theredonlion.co.uk/.
Cheers, Nik Antona, CAMRA National Chairman.
---
New content for beer lovers to Learn & Discover
CAMRA's online Learn & Discover Zone will be home to new content from beer writers, educators and experts throughout June and July. Each week there will be new guides, articles, videos and podcasts exploring everything there is to know about beer, cider, perry and pubs.
https://camra.org.uk/press_release/new-content-for-beer-lovers-to-learn-discover/.
CAMRA has been working with leading drinks writers, experts and educators to bring you member exclusive content to the Learn and Discover platform. Each week there will be new guides, articles, videos and podcasts exploring everything there is to know about beer, cider, perry and pubs. Let your curiosity guide your own learning journey across three tiers of learning: 'Basics' for beginners', 'Learn More' for enthusiasts' and 'Discover' for connoisseurs.
Coming up in June and July 2020
We start a new 4 part audio guide by Emma Inch exploring the four main ingredients of beer with an exploration of hops.
A video guide to herbal beers and foraging for brewing ingredients by Andy Hamilton.
A "beginners guide to tasting cider" and a cider enthusiasts guide to cider terminology from James Finch - a.k.a. The Cider Critic.
An in-depth history of the IPA by Chair of The British Guild of Beer Writers, Pete Brown.
​The Ciderologist a.k.a Gabe Cook will be exploring all things cider and perry.
The first installment of a dictionary of beer by Mark Dredge.
---
Coronavirus COVID19 Carnage
Our chairman Barrie Childs did a radio interview on BBC Somerset's Saturday Breakfast Show on Saturday 21st March 2020. Listen to it here https://www.bbc.co.uk/programmes/p085rb2t. Interview starts at 1:26:30
The following events are now CANCELLED:
21st March Crossways Inn social gathering
30th March Committee meeting
2nd April Talk to private group at the Plough
3rd April Pub Trail launch at Etsome Arms
3rd & 4th April Members' Weekend & National AGM, York
3rd April to 31st May Pub Trail
5th April Award presentations to Pebbles & Esplanade Club
6th April Branch meeting, New Inn, Wedmore
19th April Social visit to Portsmouth Arms
11th May Branch meeting, Bar 5, Crewkerne
16th May Weston-super-Mare crawl
1st June Committee meeting
5th to 7th June Real Ale & Cider Festival at Minehead
13th June Branch AGM at Wyvern Club
13th June Regional Meeting at Wyvern Club
---
A new beer, cider and perry delivery app - helping you buy local brews!
We know this is a difficult time for beer and pub lovers and we are committed to supporting you and the industry through this crisis. As part of our Pulling Together initiative (our response to COVID 19) we have created Brew2You - a new app that allows you to order local beer, cider and perry deliveries and takeaway. https://camra.cmail20.com/t/j-l-qjktig-jhiddhjthi-y/. What Makes Brew2You Different? Explore the world of beer, cider and perry in a completely new way It's simple to search for beer, cider or perry in your area Check what's available right now Seek out new beer or cider to satisfy your taste buds Discover new local breweries or pubs Choose collection or delivery - it's up to you! Your next brew could be a tap away, try it - what have you got to lose?
Brew2You is ready to take your orders!
Ordering beer, cider or perry directly to your doorstep couldn't be simpler. Just download the app, search for your favourite drink within your local area and order it to your door with just a click of a button. https://brew2you.co.uk/. We have contacted pubs, clubs, breweries and cider and perry producers, they are currently setting up shop to ensure there is good coverage for our members. New partners are signing up every day, so keep checking back for your preferred supplier!
If you can't find your favourite local pub, club, brewery or cider producer on Brew2You, why not give them a call and ask them to sign up as a partner?
The longer the lockdown lasts the harder hit our pubs and breweries will be and the more we risk many closing their doors for good. We therefore urge beer and cider lovers to shop local and support the trade using Brew2You so that we still have pubs and breweries at the other end of the crisis.
Thank you for your support, Nik Antona, CAMRA National Chairman.
---
Washford Beer Festival - Presentation of Awards
Barrie Childs (Chairman, Somerset CAMRA) & Mick Cleveland (Festival Organiser) presenting certificate for Beer of the Festival to Graham Dunbavan from 3D Beer of West Huish.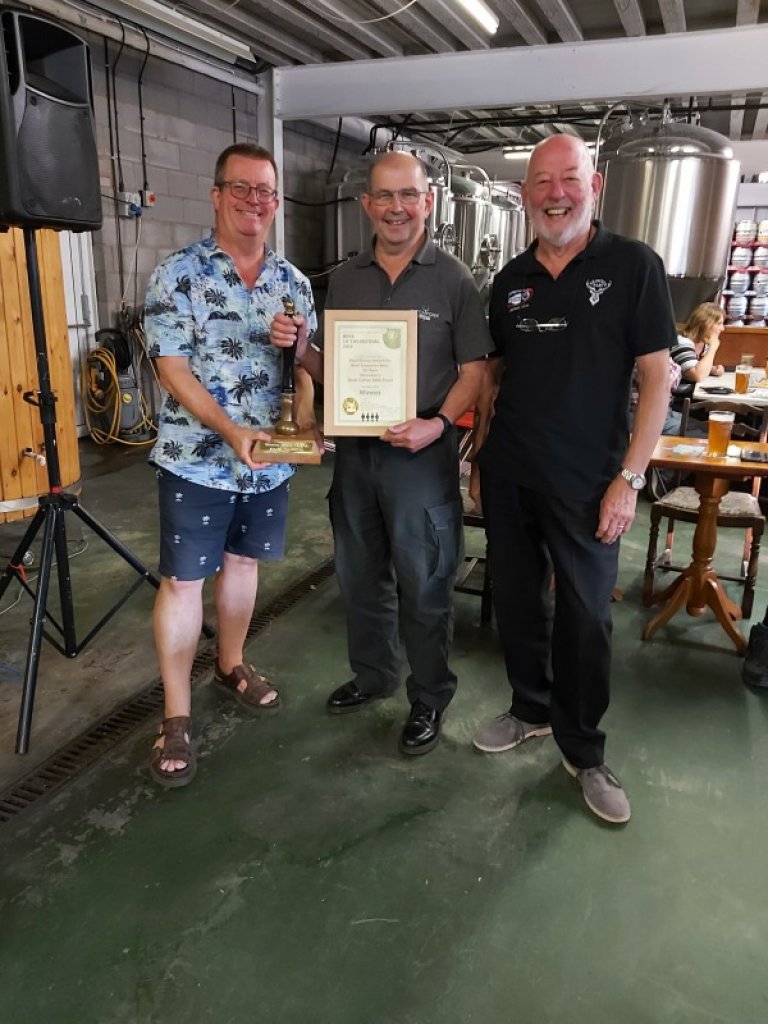 During Somerset CAMRA's Summer Social, held at Quantock Brewery's taproom on Monday 12th August 2019 evening, certificates were presented to the winning brewers and cider producer, as judged by participants of the WSR/CAMRA Real Ale & Cider Festival held at S&DRT Washford during West Somerset Railway's 2019 Diesel Gala. Cider/Perry of the Festival went to Neil & Gemma Combe from Torre Cider Farm of Washford for their Pear Ambulance Perry, and Best Somerset-brewed Beer of the Festival to Graham Dunbavan from 3D Beer of West Huish. Also see http://www.wsr.org.uk.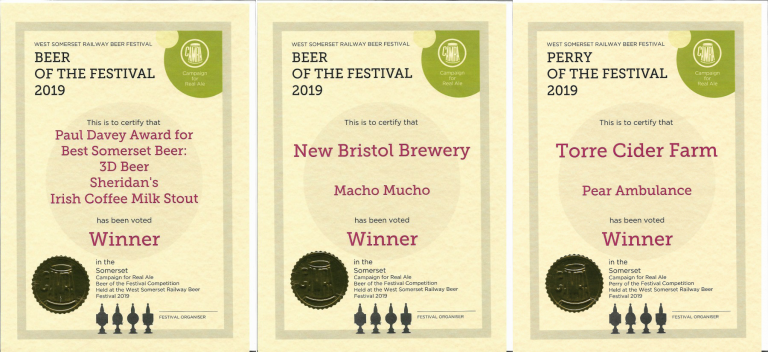 ---
Radio Radio
Our chairman, Barrie Childs, did a live radio interview on Friday 16th August 2019 morning between 7:30 am and 8:00 am on the Claire Carter Breakfast Show on BBC Somerset Radio. They talked about various aspects of CAMRA and tasted some beers.
---
Coming events for your diary
Dates of meetings and social events can be found on the Branch Diary page: Branch Diary.