Coronavirus COVID19 Pub & Brewery Support
During the Coronavirus lockdown most of the breweries and cider producers in Somerset are offering free home delivery for beer, cider and perry. Also see the Latest Pub News page for some pub takeaway menus.
Pulling Together - Campaign to save ​the Industry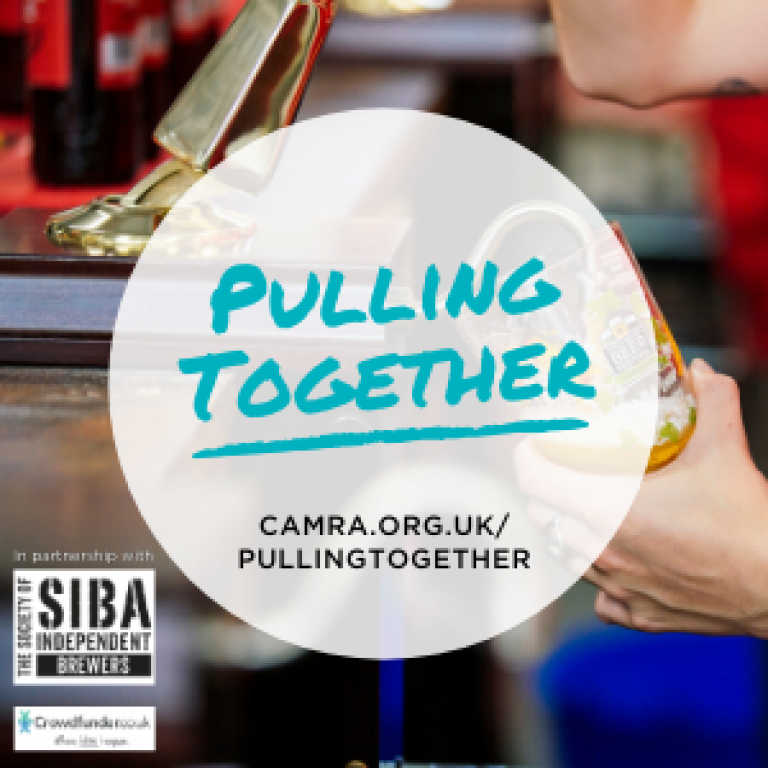 https://camra.org.uk/pullingtogether/
Pubs, clubs, breweries and cideries across the UK have shut their doors as part of the fight against the Covid-19 crisis, but many are offering takeaway and delivery services to continue trading. We launched the Pulling Together campaign in partnership with SIBA and Crowdfunder to help support those businesses by making it easy for consumers to find beer and cider local to them. Why not use our site to see how you can help pubs or breweries near you and buy locally during lockdown?
A new beer, cider and perry delivery app - helping you buy local brews!

We know this is a difficult time for beer and pub lovers and we are committed to supporting you and the industry through this crisis. As part of our Pulling Together initiative (our response to COVID 19) we have created Brew2You - a new app that allows you to order local beer, cider and perry deliveries and takeaway. https://camra.cmail20.com/t/j-l-qjktig-jhiddhjthi-y/. What Makes Brew2You Different? Explore the world of beer, cider and perry in a completely new way It's simple to search for beer, cider or perry in your area Check what's available right now Seek out new beer or cider to satisfy your taste buds Discover new local breweries or pubs Choose collection or delivery - it's up to you! Your next brew could be a tap away, try it - what have you got to lose?
Brew2You is ready to take your orders!
Ordering beer, cider or perry directly to your doorstep couldn't be simpler. Just download the app, search for your favourite drink within your local area and order it to your door with just a click of a button. https://brew2you.co.uk/. We have contacted pubs, clubs, breweries and cider and perry producers, they are currently setting up shop to ensure there is good coverage for our members. New partners are signing up every day, so keep checking back for your preferred supplier!
If you can't find your favourite local pub, club, brewery or cider producer on Brew2You, why not give them a call and ask them to sign up as a partner?
The longer the lockdown lasts the harder hit our pubs and breweries will be and the more we risk many closing their doors for good. We therefore urge beer and cider lovers to shop local and support the trade using Brew2You so that we still have pubs and breweries at the other end of the crisis.
Thank you for your support, Nik Antona, CAMRA National Chairman.
---
The Government has responded to the petition many CAMRA members have signed – "Cut beer duty for at least 12 months, so pubs can survive after the covid virus."
Government responded:
The Government has announced an unprecedented package of support for individuals and businesses to mitigate the economic impacts of COVID-19, which will directly benefit the pubs sector.
The Government is aware that COVID-19 presents unprecedented challenges to many UK businesses including the pubs sector. In order to support public services, individuals and businesses through the economic disruption caused by COVID-19 the Government announced an unprecedented £330 billion support package of temporary, timely and targeted measures.
These included the introduction of a Coronavirus Business Interruption Loan Scheme offering loans of up to £5 million for SMEs through the British Business Bank, and a new lending facility from the Bank of England to help support liquidity among larger firms. The total of the available guarantees is equivalent to 15% of UK GDP. The package also gave all retail, hospitality and leisure businesses, including the pubs sector in England, a 100% business rates holiday for the next 12 months; and increasing grants to small businesses eligible for Small Business Rate Relief from £3,000 to £10,000.
To assist the smallest SME's the Government announced the new Bounce Back Loans Scheme, which will ensure that the smallest businesses can access up to £50,000 loans in a matter of just days. These loans will be from £2,000 up to £50,000, capped at 25% of firms' turnover. The Government will provide lenders with a 100% guarantee on each loan, to give lenders the confidence they need to support the smallest businesses in the country. In addition, the Government will cover the first 12 months of interest payments and fees charged to the business by the lender and no repayments will be due during the first 12 months of the loan term, giving businesses the space they need to get through this difficult period.
In addition to the Small Business Grant Scheme, the Government will grant small businesses in the retail, hospitality or leisure sectors a higher grant of £25,000 per property, for each property that has a rateable value above £15,000 and below £51,000. Businesses in the retail, hospitality and leisure sectors which aren't eligible for Small Business Rate Relief/Rural Rates Relief, will be eligible for a £10,000 grant per property, for each property that has a rateable value of £15,000 or below.
Further economic support for businesses, employees and individuals was announced on 20 March: https://www.gov.uk/government/publications/guidance-to-employers-and-businesses-about-covid-19/covid-19-support-for-businesses. The announcement included a new Coronavirus Job Retention Scheme. It also included VAT deferral for all businesses, so UK VAT registered businesses will not need to pay any VAT due alongside their normal VAT return from 20 March through to the end of June – a deferral worth over £30 billion or 1.5% of GDP. Businesses will have until the end of the financial year (31 March 2021) to pay back any deferred VAT. This is to help support businesses with their cash flows and support individuals' employment.
The Government notes the request for beer duty to be cut but has no plans to do so at this time. All taxes are kept under review and decisions on tax rates are made by the Chancellor as part of the annual Budget process.
HM Treasury
This is a revised response. The Petitions Committee requested a response which more directly addressed the request of the petition. You can find the original response towards the bottom of the petition page (https://petition.parliament.uk/petitions/306054).
Click this link to view the response online: https://petition.parliament.uk/petitions/306054?reveal_response=yes
The Petitions Committee will take a look at this petition and its response. They can press the government for action and gather evidence. If this petition reaches 100,000 signatures, the Committee will consider it for a debate.
The Committee is made up of 11 MPs, from political parties in government and in opposition. It is entirely independent of the Government. Find out more about the Committee: https://petition.parliament.uk/help#petitions-committee Thanks, The Petitions Team, UK Government and Parliament.
Government Advice to Pubs doing Takeaways
HMG have today updated their advice with regard to pubs doing takeaways: https://www.gov.uk/government/publications/further-businesses-and-premises-to-close/further-businesses-and-premises-to-close-guidance.
The relevant note relating to food takeaway and delivery appears just under heading No. 1: Food and Drink: Restaurants and public houses, wine bars or other drinking establishments. Exceptions: Food delivery and takeaway can remain operational and can be a new activity supported by the new permitted development right. This covers the provision of hot or cold food that has been prepared for consumers for collection or delivery to be consumed, reheated or cooked by.
Alcoholic drink takeaway is covered under heading No. 2, at the end of that section: Those venues offering takeaway or delivery services must not include alcoholic beverages in this list if their licence does not already permit.
The list of businesses excluded from the shutdown (under heading No. 2) includes: Off-licences and licenced shops selling alcohol, including those within breweries. Also, off licences/brewery shops are now being actively encouraged to stay open: https://www.bbc.co.uk/news/business-52033260.
Use What Pub? (https://whatpub.com) for information on takeaways from Somerset pubs. We are introducing some temporary changes to WhatPub to help promote pubs, clubs and brewery taprooms offering alternative services during the enforced closure period. We are asking for branches to support this by adding information about their local venues to enable members of the public to find information about such services and help keep pubs alive over the coming weeks.
Please, please send any info about pub takeaway arrangements to Dave Dean to stick on Whatpub. Today's HQ branch mailout has all the details of what's required, including instructions on how to update Whatpub yourself (for this specific info only).
---