Somerset Branch CAMRA Cider & Perry Producers
Somerset Cider and Perry Producers (B) Bus services operate close by. Where possible if travelling by bus to avoid disappointment PLEASE CHECK BUS TIMES AND IF PRODUCER IS OPEN FOR BUSINESS. (P) Also produces Perry.
Ashill Cider
Clifford House, Ashill Farm, Ilminster TA19 9NE. Telephone: 01823 480513. E-mail moc.liamg@golbrediceht.
Bere Cider Company
Woodpecker Lodge, Bere, Aller TA10 0QX. Telephone: 01458 250166. moc.ynapmocredicereb@ofni. Website: http://www.berecidercompany.com.
We are craft cidermakers, trading from our working farm just outside of Langport. You will be made most welcome to visit us at our cider shed (aka "The Shack") where you will be able to sample and buy our cider (Gold Rush Cider) or our new bottled slightly sparkling cider (5 Acres), and apple juice.
Bridge Farm Cider (P) (B)
Nigel Stewart Bridge Farm, East Chinnock, Yeovil BA22 9EA. Telephone: 01935 862387 Website: bridgefarmcider.co.uk. E-mail: ku.oc.redicmrafegdirb@ofni.
At Bridge farm we take pride in producing award winning ciders from the finest traditional orchards across South Somerset and Dorset. We will only use traditional cider apples from local orchards, all within a tractor journey from the farm. Our ciders are crafted using traditional methods reflecting the heritage of traditional farmhouse ciders with a modern artisanal twist.
Burrowhill Cider
Burrow, Burrow Way, Stembridge. TA12 5BU. Telephone : 01460 240782. E-mail : ku.oc.ydnarbredic@selppa Website : https://www.somersetciderbrandy.com.
Our farm in Somerset sits among 180 acres of cider apple orchards at the base of Burrow Hill. The farm has been pressing cider for over 200 years. In 1989 we were granted the UK's first ever full cider-distilling license. We have been distilling award winning cider into Somerset Cider Brandy ever since.
In the autumn over forty varieties of vintage cider apples such as Dabinett, Kingston Black, Stoke Red, Yarlington Mill and Harry Masters are harvested.
Chant Cider/Naish's Cider
Piltown Farm, West Pennard, Glastonbury BA6 8NQ 07940 853099 moc.yks@redictnahc Chestnut Farm Cider Chestnut Farm, Edithmead, Highbridge, Somerset TA9 4HB 01278 785376 ku.oc.tsebslevel@seiriuqne
The Naish family have been making traditional natural organic cider on Piltown Farm for 200 years – now Paul Chant continues the tradition.
Chatterwood Cider (formerly Knollered Cider)
Upcott Farm, Bicknoller, TA4 4EY. 07909 997165 E-mail: moc.liamg@gnuoydnapohsib.
Ex-Press Cider
Glen Lodge Stables, Hawcombe Porlock TA24 8LN. Telephone: 07821 043 356 ku.oc.redicsisiht@ofni Website: http://thisiscider.co.uk/
Harry's Cider
Littlefield farm, Littlefield Lane, Long Sutton TA10 9NS. Telephone: 01458 241324 ku.oc.redicsyrrah@ofni Website: https://www.harryscidercompany.co.uk/.
Harry's Cider is an award winning artisan cider made from 100% juice, crafted by cidermakers Harry Fry and son Toby on their family farm in Somerset. We are immensely proud to be part of the farming tradition of growing apples and making cider.
Our orchards form part of our agricultural enterprise, and we believe that the cider we produce is the best in Somerset.
After a decade of making Cider in Somerset, Harry has created a number of delicious, full bodied, refreshing, craft ciders that stand out amongst the rest and have won a number of awards across the UK and beyond.
Hecks Farmhouse Cider (P) (B)
9-11 Middle Leigh, Street BA16 0LB. Telephone: 01458 442367. E-mail: ku.oc.redicesuohmrafskceh@seiriuqne Website: https://www.heckscider.com.
The Hecks family have been making traditional farmhouse cider in Somerset for six generations, since 1841. In 1896, we started to sell our cider from our farm shop in Street. We make our cider by blending juice from apples all grown locally in the farm's orchards. The cider is fermented in wooden barrels and sold draught from the wood.
Honey Pot Farm Cider (B)
Julie & Aran Comben, Winton Cottage, 80 West Street, South Petherton TA13 5DJ. Telephone: 01460 242539 or 07971 656440. E-mail: moc.liamg@pohsmraftopyenoh Website: https://honeypotfarm.org.
Our holding of 5.5 acres is laid out into paddocks and grazed by our small flock of Pure Bred Poll Dorset Sheep and our flock of Chickens. We have a small traditional Apple Orchard in one corner of the Farm and we grow other Standard Apple trees around the edges of our Paddocks allowing us to use the Paddocks for grazing or crops of Maize, Sunflowers, etc. We grow approximately 40 Varieties of Apples.
Moor Cider
J.T. Flanagan The Old Tin Shed, Dulverton TA22 9PT. Telephone: 07813 588 309 E-mail: moc.oohay@redicroom
King Brain
Little Weston Farm, Little Weston, Yeovil, BA22 7HP. Telephone: 07914 494330 or 01963 44509 E-mail: moc.liamg@niarbgniknoj. Website: http://www.kingbraincider.co.uk.
The King Brains' have been making cider at Little Weston Farm for at least five generations. Their organic orchards have many old and local varieties of cider apple trees giving the cider a true and distinctive flavour. The cider is matured to dry, medium and sweet. Come and taste before you buy.
Knee Cracker Cider
Appleyard Manor, Stoddens Lane, Burnham-on-Sea TA8 2DF. 01278 792898. No Email Address.
Lawrence's Cider
Ridgeway, Corton Denham DT9 4LS. Telephone: 01963 220650. E-mail: ku.oc.redicsecnerwal@ofni Website: https://www.lawrencescider.co.uk.
Lawrences Cider is produced the traditional way using a rack and cloth press, apple is pulped and wrapped in strong cloths sandwiched between slatted wooden racks to produce a stack, known as 'cheese' which is then pressed. In the autumn the apples are harvested by hand to ensure only the best fruit is used. All the fruit comes from local Somerset orchards, including my own trees, the Cider is then matured in Oak barrels the influence of the Oak on Cider creates a stronger deeper flavour.
Loaders Farmhouse Cider (B)
Sweetings Barton, Dean Road Cotford-st-Luke TA4 1BL. Telephone: 07789 952125 or 01823 433160. E-mail: ku.oc.redicsredaol@luap. Website: https://www.loaderscider.co.uk.
Hi I'm Paul Loader and I started Loader's Cider started as a hobby in 2015 with my son George and made some very good cider from local unwanted cider apples from old organically managed and often neglected orchards, most of which were planted and supplied the old Taunton Cider Co. For a few years it was a learning curve finding out about the better varieties and what worked and what didn't. We then entered the Bath and West Cider Competition and won Silver and Bronze in the farmhouse category.
Our ciders are of the typical West Somerset type using higher tannin but slightly lower acid varieties giving the cider a very golden colour and softness on the palate and an good apple taste - hopefully you will experience the same when you try our ciders.
Mad Apple Cider
Telephone: 01984 641998 Mobile: 07825468548. moc.tenretnitb@ocredicelppadam Website: http://www.madapplecidercompany.com.
Mad Apple Cider is made from the finest traditional cider apples in Somerset. Proprietor Ian Cunneen is proud to say "Mad Apple is 100% natural, with nothing added and nothing taken away."
The first orchard Mad Apple Cider acquired for use is at Holford, and belongs to Moorhouse Farm where a superb family run, dog-friendly campsite can be found nestling in the Quantock Hills.
Some apples are collected by hand via shaking trees and knocking 'hard to reach' ones from their resting place with a long stick. Others are harvested with the wonderful Tuthill-Temperley that scoops fallen apples from the ground and deposits them into baskets.
Orchard Pig
Andrew Quinlan Bradley Way, West Bradley BA6 8LT 01458 851222. E-mail: ku.oc.gipdrahcro@knio Website: https://orchardpig.co.uk.
It all started in the naughties, when our founder started dabbling with cider-making in his garden shed. Turns out West Country apples make great tasting cider. Following this happy discovery, Orchard Pig arrived out of a shared thirst for great cider, great food and Old Spots, the original Orchard Pigs. Bursting with West Country bittersweet cider apples, expertly crafted to our own special blend. Suitable for vegans, vegetarians, fruititarians and even flexitarians...
Parsons Choice Cider (B)
Parsonage Farm, West Lyng, TA3 5AP. Telephone: 01823 490978 E-mail: ku.oc.rediceciohcsnosrap@ofni Website: https://parsonschoicecider.co.uk.
Our family farm has been producing traditional cider as well as our popular apple cider vinegar for more than 30 years. At the farm, it's all about the apples! We are passionate about using traditional Somerset varieties, well known for producing excellent quality cider, these include – Kingston Black, Dabinett, Yarlington Mill, Michelin, Somerset Redstreak and Morgan Sweet to name a few. This blend of traditional Somerset cider apples has a well-balanced taste and many of our trusted clientele return for refills!
We source our fruit, not only from our own carefully tended orchards but also supporting local orchards in nearby villages. This ensures the fruit has not traveled excessively and is fresh when we press. Our apples are not sprayed or treated, so the cider is completely natural.
Perry's Cider
Dowlish Wake, Ilminster, TA19 0NY. Telephone: 01460 52681 ku.oc.redicsyrrep@ofni Website: https://www.perryscider.co.uk.
We're a free thinking craft cider company that doesn't like being constrained. In fact we only like making craft ciders as naturally and as simply as possible - using the very best fresh apples, small batch techniques, wild yeasts and 100% juice. The resulting ciders are full of depth, character and as near to perfection as we can get them.
Rich's Farm Cider
Mill Farm, Watchfield, Near Highbridge, TA9 4RD. Telephone: 01278 783651 ku.oc.redicshcir@naj Website: https://richscider.co.uk.
Established in 1954 there have been many changes since Gordon Rich started pressing cider apples at Mill Farm, although essentially the production of the juice is still traditional. We are a family run business producing traditional farmhouse cider and farm pressed apple juice, with locally harvested Somerset apples.
Secret Orchard Cider
Nettlecombe Studios, Nettlecombe TA4 4HS. Telephone: 07748 026833 E-mail: ku.oc.redicdrahcroterces@eoj Website: https://www.secretorchardcider.com.
On deepest darkest Exmoor, beyond the ancient walls of the Nettlecombe Estate, remarkable craft ciders are being created. Using low intervention techniques, wild yeast ferments and 100% apple juice, these award winning ciders will intrigue and delight.
Sheppy's Cider (B)
Three Bridges, Bradford-on-Tone, Taunton TA4 1ER. Telephone: 01823 461233 E-mail: moc.redicsyppehs@ofni Website: https://www.sheppyscider.com.
Nestled between Taunton and Wellington, we are a family-run farm that's been lovingly crafting award winning ciders. For over 200 years the skill and craftsmanship of classic Somerset cider-making has been passed down through six generations of Sheppys.
Tanpits Cider
Tanpits Cider Farm, Dyers Lane, Bathpool, Taunton TA2 8BZ. Telephone: 01823 974845 Website: http://www.tanpitsfarmcampsite.co.uk/cider.
Tanpit's Farm has been producing it's own cider for over 100 years. Now into its 5th generation of cider makers we just know you'll love our Henry's Farmhouse Scrumpy available straight from our shop.
Torre Cider
Torre Cider Farm, Washford, Somerset TA23 0LA. Telephone: 01984 640004 E-mail: moc.liamg@mraferrot Website: https://torrecider.farm.
A trip to Torre Cider Company in Washford near Watchet, hidden within among the network of winding roads on the Somerset/border, is a bit like the best soft play centre you've ever been to (sorry – trigger warning to all tired parents). There are no ball pits or suspiciously wet slides; instead you have an outdoor kiddie oasis complete with a playground, chickens, lambs and two gloriously fat pigs, all of which you can supervise from under the shade of an apple tree, with, most importantly, a pint.
Gemma, Neil and nine-month-old Maggie are the proud owners of their eight-acre orchard, growing 16 varieties of apples that come late-September, will all be hand-picked and transformed into wonderful cider.
Tricky Cider
The Stables, Upper Willand, Churchstanton. TA3 7RL. Telephone: 07875 963097 moc.redicykcirt@ofni Website: https://www.trickycider.com.
Tricky Cider is run by Matt Gillett, a lover of both Cider and Somerset. Matt grew up in nearby Taunton and after spending the majority of his years studying the art of engineering he decided that a country pursuit was the path to happiness. A life long disciple of cider, Matt took over Tricky in 2018 initially working with his friend Freddie Farnworth. Matt now runs the business as Freddie goes on to pursue his unique vision for brewing beer. Now operating from Higher Willand Farm high on the Blackdown hills he aims to produce high quality traditional ciders with complex rich flavours and tannins. His not so secret approach is to make use of the many old and varied orchards that exist across the Somerset levels to source not only a wide variety of fruit, but some of the best quality and most sought after cider apples around.
Uncle Dicks Cider
Blakes Farmhouse, Wembdon, TA5 2BE. Telephone: 01278 429235 E-mail: moc.kooltuo@rebbew.mr
Watchet Cider Company
Please contact via mobile or email Mark Middleditch. Telephone: 07966 0611055, E-mail: moc.liamg@ynapmocredictehctaw Website: https://watchetcidercompany.com.
Handcrafted Somerset cider maker producing artisan ciders, apple juice and vinegars using the finest local grown produce. 100% apple juice and wild yeast fermentation, creating cider using traditional techniques with a modern twist.
Westcroft Cider
Westcroft Farm, Brent Knoll, Highbridge TA9 4BE. Telephone: 01278 760762 E-mail: ku.oc.ocragenivredictesremos@ofni Website: https://www.somersetcidervinegarco.co.uk/westcroft-cider-and-janets-jungle-juice.html It's time to taste Real Cider direct from the farm!Only traditional varieties of Somerset cider apples are used in our cider like Kingston Black, Brown Snout, Sheep's Nose and Yarlington Mill. We do not use dessert or culinary apples, sugar or concentrate.
In 1997, 2007 and 2015 West Croft Janet's Jungle Juice was voted Champion Cider of Great Britain by CAMRA at the Great British Beer Festival (from a blind tasting of over 150 ciders). No other cider has been so successful.
West Croft Cider has also won the gold medal at the Royal Bath & West and has been the Champion Cider at the Mid-Somerset Show at Shepton Mallet (the one that counts to cider makers) no less than five times.
You've tasted the fizzy apologies for cider made from sugar and concentrate. NOW IT'S TIME TO TRY THE BEST. For all West Croft and Janet's Jungle Juice Cider enquiries contact John Harris at the farm or on 01278 760762.
Wilkins Cider
Land's End Farm, Mudgley, Wedmore BS28 4TU. Telephone: 01934 712385. Website: http://wilkinscider.com.
Roger doesn't "do" email or messaging or any of that stuff - you can only telephone him to order your cider cheese & flagons on 01934 712385. About me and the farm…
I'm Roger Wilkins and my family have been producing proper traditional cider from our farm in Mudgley Somerset for nigh on 1,000 years… well all right, not quite that long, it just seems that way.
The farm is open 7 days a week from 10:00 until 8:00, 'cept Sundays when we close at 1:00pm, so I can have a quiet Sunday lunch.
You're very welcome to come along to the farm and sample my CAMRA award-winning cider and then you'll want to buy some. Want to order cider but can't get here? I don't do any of this e-commerce stuff – just call me on 01934 712385 and I can send you the best cider in Somerset! Why not order some cheese too, while you're talking to me? Cheddar and Stilton cheese like you never tasted before, especially our un-pasteurised Cheddar – proper stuff! The UK "Independent" Newspaper voted me cider Number 1 for Somerset Ciders saying: "Not a cider for the novice – a sip of Wilkins' will put hairs on your chest. And those hairs will sprout hairs. Roger makes his cider the traditional way, leaving the juice to ferment naturally in wooden barrels, resulting in a fearsome, robust, Lucozade-hued booze that's not ready to tap until Roger says it's ready. Roger 'doesn't do email' but welcomes phone orders for his sweet, medium or dry ciders."
If you come 'ere be careful, mind, as it's a working farm and we don't have any of that fancy modern shop layout here, just barrels in my cider barn. Got wonderful tasting Cheddar and Stilton cheese and lots of fresh local vegetables, eggs, pickles and the like for sale, too. If you're in Somerset for a holiday you can call in, get your cider and then go for a lovely walk across Westhay Moor on the Somerset Levels – appreciate the countryside, that's what I say.
Woods Cider
Micheal Wood, The Old Parsonage, Church Street, Drayton, TA10 0JU. Telephone: 01458 251246 ku.oc.redic-tesremos@hcneuq. Website: https://www.facebook.com/Woods-Traditional-Cider-664656846891292/. Based in the heart of Somerset - We make the purest apple cider and apple juice you can buy!
---
Small Independent Cidermakers Association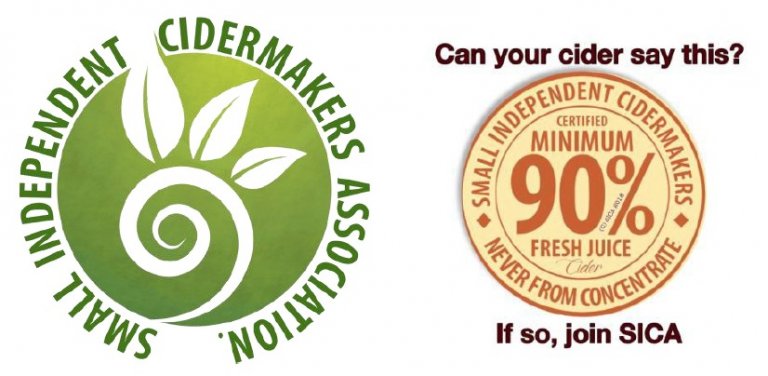 Find out more at https://www.smallindependentcidermakers.co.uk.